Martell Grande Champagne 1965 - Luxury Retail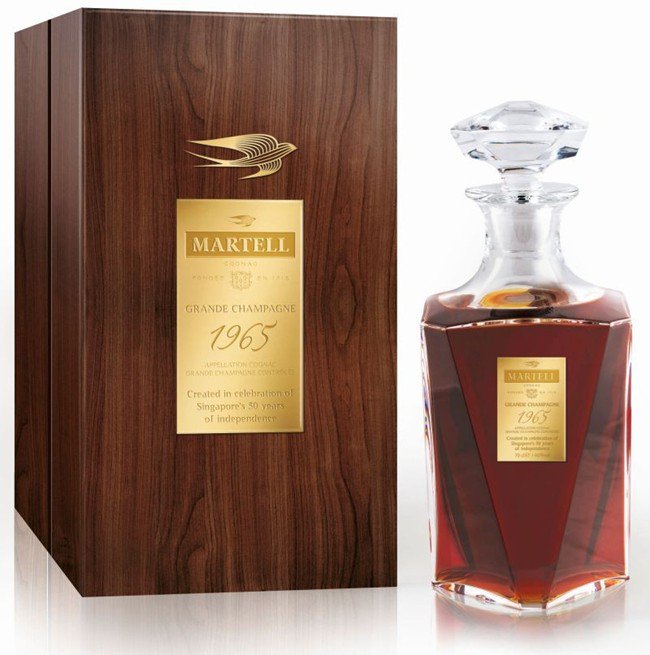 CELEBRATING SG50: Martell Grande Champagne 1965
The House of Martell, the oldest of the great cognac houses, presents Martell Grande Champagne 1965.This specially created cognac pays tribute to and commemorates Singapore's year of independence and its success in the last fifty years. Tapping on its expertise, Martell has drawn upon its treasured stock of 1965 Grande Champagne eau-de-vie for the creation of Martell Grande Champagne 1965. The resulting cognac is bottled in exquisite decanters made of crystal. Only three bottles of Martell Grande Champagne 1965 have been produced, making it a marque that is truly exclusive to this milestone in Singapore's history.
Martell Grande Champagne 1965 Cognac has a magnificent golden copper color with hints of shimmering mahogany. The first nose, vivid and fruity, progressively leads to pleasurable fine spices sensations (cinnamon, nutmeg), and is embraced by candied oranges and dried fruits such as grape or apricot.
When swirling, the cognac evolves, with a perfect harmony between red fruits (red currant, blackcurrant) and dried fruits, with a spicy touch. The mouthfeel is powerful and expressive, with a certain roundness. Some delicate notes of dried fruits, combined with a hint of wood, are followed by a harmonious alternation of red and black fruits, leading to a very balanced and long finish, characteristic of the Grande Champagne eaux-de-vie.