Louis Vuitton flagship Ginza
Louis Vuitton Flagship Store Renewal
After a three-year construction period, Louis Vuitton has regained its flagship store in the upscale Ginza shopping district in Tokyo, a location it has held for the past 40 years.
Officially opening its doors on Sat – Mar 20, the result is nothing short of an architectural stunner, courtesy of Jun Aoki, a lauded architect based in the Japanese capital and longtime collaborator of the fashion house.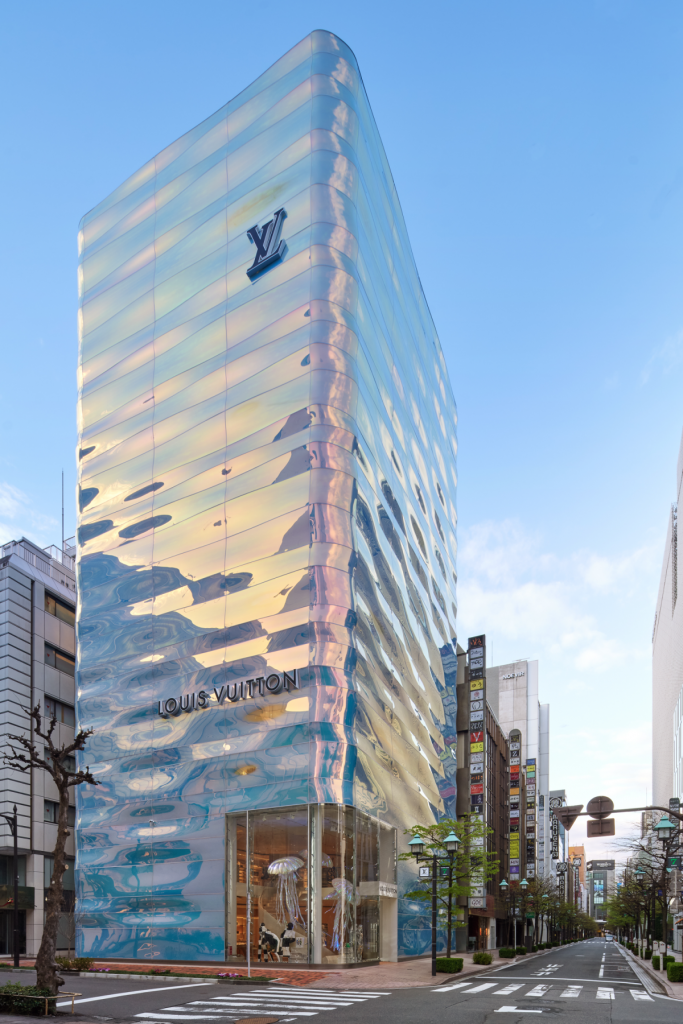 Spanning seven floors alongside Namiki dori, the monolithic structure is entirely covered in a shimmering glass façade which draws clues from the reflections of water as a material phenomenon, and as such, it magically shifts colour during the day or when looked at from different angles.
For the flagship store's interior, Louis Vuitton called upon another longtime acclaimed collaborator, New York City-based architect Peter Marino.
A double-height cut out with floor-to-ceiling glass marks the entrance, allowing passersby a generous peak of the alluring interior, including a monumental swirling staircase crafted from oak and glass. The chosen water theme, inspired the fact that the store location once formed part of a peninsula jutting into Tokyo Bay, is reflected throughout the premises by way of smooth, undulating surfaces—from the glass façade to the feature staircase, furniture pieces and fixtures.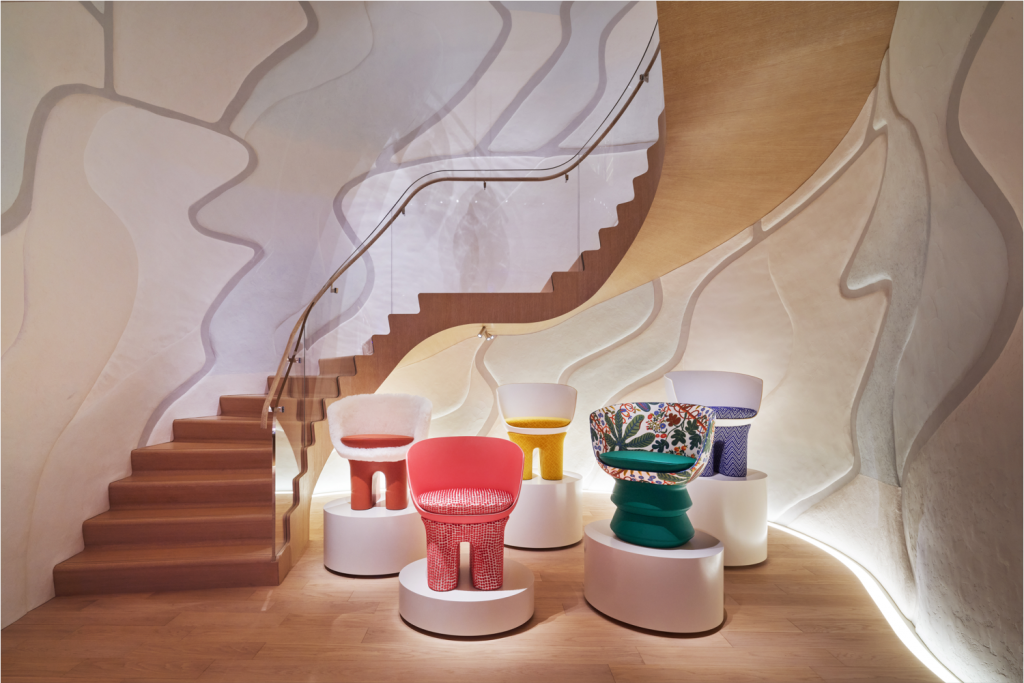 Of the flagship store's seven floors, four are dedicated to retail. The ground floor presents women's leather goods, watches and jewellery, and the permanent pop-in space, with additional women's leather goods, as well as accessories, travel and fragrance located on the second floor.
The women's collection, including ready-to-wear and shoes, extends across the third floor. One floor up, the men's domain can be found. Here, the full men's collection is presented. For Louis Vuitton's most distinguished clientele who wish to power shop with away from prying eyes, two swanky private salons are readily available on the sixth floor. The various settings are dotted with a carefully curated artworks and design pieces which aim to elevate the shopping experience, and includes paintings by Kimiko Fujimura, Ida Tursic & Wilfried Mille, Peter Dayton, and furnishings by Isamu Noguchi, and Stefan Leo.
The top floor is home to Le Café V, an exclusive eatery supervised by Yosuke Suga. Louis Vuitton first collaborated with the celebrated Japanese chef on the Louis Vuitton Maison in Osaka which opened last year and features the luxury brand's very first hospitality venture. But that's certainly not all. Here, Le Chocolat V, Louis Vuitton's hotly anticipated new chocolate brand, will make its world debut at end of next month.
The flagship store obviously carries the brand's full range of women's and men's collections, in addition to a range of exclusive items, including a limited reedition of Comme des Garçons creative director Rei Kawakubo's monogram collaboration bag from 2014 in leather, LV Ollie sneakers embellished with embroidery and pearls, a fully-embroidered Monogram sequined dress and a slim Tambour watch accented with blue and purple sequins, the Boîte Pharmacie handheld Monogram trunk designed in collaboration with Kabuki actor Ebizo Ichikawa XI, and last but not least, items from the Objets Nomades collection.