Loewe New Luxury Store Opening in Los Angeles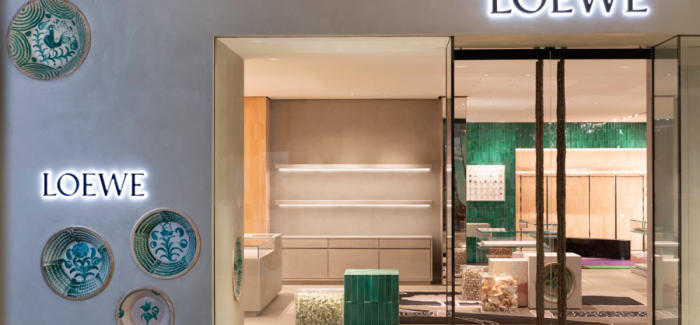 Loewe Opens Its First Store on the West Coast
Beverly Hills and West Hollywood may be the usual areas in Los Angeles where luxury brands congregate, but Loewe chose a different location for its very first boutique on the U.S. West Coast.
The Madrid-based luxury house secured a 139 sqm. (1,500 sq.ft.) ground floor unit at South Coast Plaza in Costa Mesa, a shopping centre serving a number of affluent neighbourhoods in this area of town.
The Loewe store rubs shoulders with peers from fashion's upper echelon, such as Dior, Roger Vivier, Chanel and Hermès, and sees an interior design created by the brand's creative director Jonathan Anderson and his in-house design team. Flaunting the brand's Spanish heritage, the store façade sees traditional ceramic lebrillos embedded, but the bowls also appear on walls and displays inside the boutique where the Iberian aesthetic is obviously extended.
The premises are infused with colour and have an open-space layout which gives shoppers an overview of all parts of the Loewe collections upon entering. The back wall is covered in striking glazed turquoise tiles and ties in with a colourful contemporary rug placed in front. Most furnishings are discreet and in subdued colours or made of glass, but there are a few items that pop, such as a specially commissioned burnt oak bench created by Jim Partridge and Liz Walmsley, finalists in the 2019 Loewe Foundation Craft Prize, and modern Utrecht armchairs by Dutch architect and designer Gerrit Rietveld upholstered in alluring purple fabric.
The new Loewe boutique carries women's and men's apparel, bags, shoes, small leather goods and jewellery. Other than new boutiques on the West Coast, one can find other Loewe store openings by clicking here.