Gilded Cactus Lamps - Luxury Retail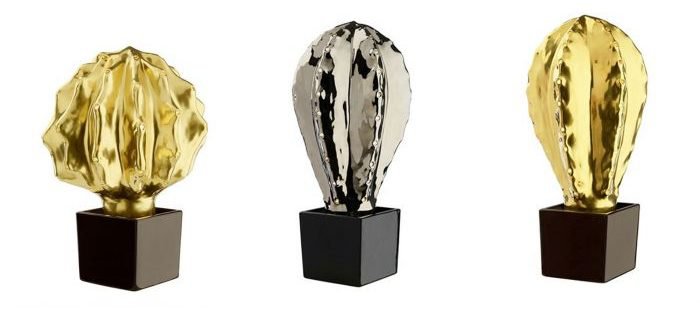 These Gilded Cactus Lamps Handcrafted in Italy are Anything but Ordinary
Add texture and light to any room with these modern gilded ceramic cactus lamps by Italian luxury lighting designer Marioni. These silver or gold ceramic table lights are handcrafted in Italy to make a subtle statement and bring the outside in. Cactus and succulents are so on-trend right now and these are luxe, but somehow whimsical in a chic and sophisticated way. Each design is a piece of art that can complete a room, and add warmth and light without sacrificing style. These artistic and unique table lamps will not go unnoticed, and will provide light, texture and style for generations to come.
Marioni has combined modernity and tradition in every design since 1966. Today Marioni provides international customers with elegant and exclusive details for the home "according to Made in Italy values". This means each and every piece is crafted with complete perfection in mind, and will not be sold unless this perfection is achieved. These gilded cacti are no exception. Each piece is an investment in Italian craftsmanship and art.
The Marioni Cactus Table Lamps are $1,410 and finished in either silver or gold. They are available in two different styles, and sit perfectly on a contrasting black ceramic light box.