Dolce & Gabbana PORTOFINO Collection - Luxury Retail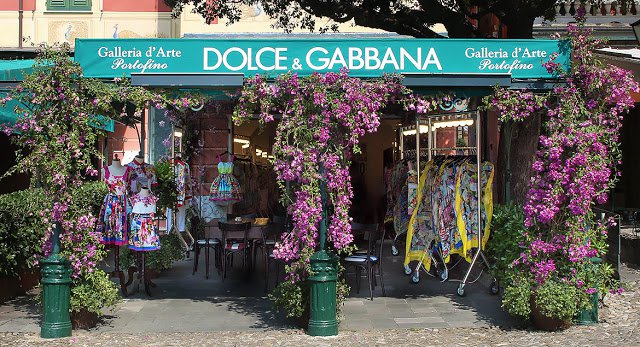 Dolce&Gabbana opens pop-up in Portofino for one month, with limited collection
To celebrate the choice of Portofino for Dolce&Gabbana's 2015 Alta Moda catwalk collection, the house has opened a pop-up boutique solely for the month of July.Located in the heart of the fishing village, the temporary boutique carries a limited-edition collection of apparel and accessories inspired by the scenic locale. Portofino is a favorite destination for Hollywood stars, artists and other creatives, giving Dolce & Gabbana the opportunity to reach its clientele in a different setting.
Portofino limited edition collection for women, men and kids.
Dolce & Gabbana's pop-up, opened July 3, is located in Piazza Martiri dell'Olivetta 7, which is a historic art gallery. Here, consumers can shop the limited-edition collection for men, women and children.
The menswear collection is dedicated to a contemporary sailor who uses maritime maps of the Ligurian Sea printed on polo shirts, shirts, oversize t-shirts, shorts and trousers to navigate the undiscovered coves. Espadrilles and belts are striped white, red, blue, green, yellow like the beach umbrellas of Paraggi. To complete the collection, colourful loafers and sandals made of crocodile leather and lizard.
Handbags, bathing suits and sportswear feature painted prints of the village, which evoke the look of a vintage postcard.
The Dolce&Gabbana pop up boutique will be open from Friday July 3rd to Sunday August 2nd July 2015, in Piazza Martiri dell'Olivetta 7, Portofino (Genova).