Victoria's Secret Rolex Watch - Luxury Retail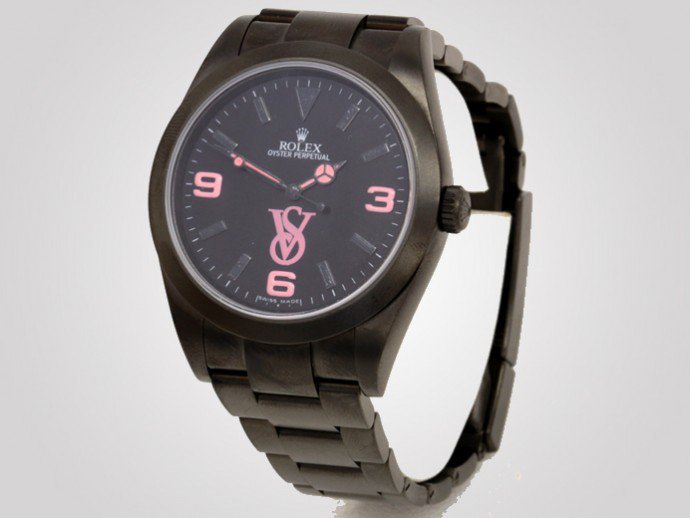 Victoria's Secret Rolex Watch Is Auctioned Off For Charity

Rolex decided to create a timepiece specifically for Victoria's Secret and agreed to have it auctioned off in order to support cancer research.
The collaboration between Rolex and Victoria's Secret is famous around the world, especially since many of the famed lingerie brand's gorgeous models are often seen wearing a sublime timepiece created by the high-end watchmaker. The timepiece is question is the Rolex Explorer 'Victoria's Secret Edition'.
This watch was customized by Militarized DLC Rolex, and it features a sublime 39mm black case, a black strap and a black dial that contrasts exquisitely with the special Victoria's Secret pink color found on the 3, 6 and 9 numerals as well as on the VS logo at 6 o'clock. The watch flaunts a Diamond Like Carbon coating for a touch of sophistication and is powered by a high quality automatic movement. The back of the case also features the same Victoria's Secret logo in pink as well as 2 engravings that state "Victoria's Secret Edition" and " Unique Piece", both featuring the same lovely color.
The Rolex Explorer 'Victoria Secret Edition' watch is expected to fetch about $30,000, and it boasts a one-year warranty courtesy of Antiquorum Auctioneers.