"Rihanna hearts Chopard" - Luxury Retail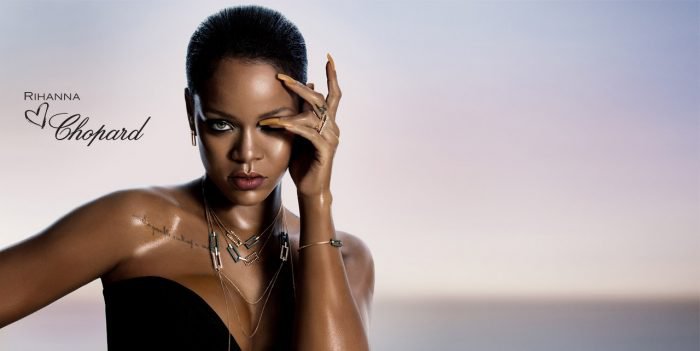 Chopard initiates Rihanna into the world of high-end jewelry
Having already adorned the Barbadian superstar for appearances at celebrity events, the Swiss jeweler has now invited her to design a collection. The meeting of these two very different entities has led to the creation of two "Rihanna hearts Chopard" collections, a fine jewelry line and another more accessible one.
Working together with Chopard's co-president and artistic director Caroline Scheufele, the international star has been inducted into a metier imbued with craft and tradition. Chopard was looking for the singer to bring her contemporary vision to the collab, "to go beyond the conventional limits" of the traditional jewelry world, it said in a statement.
The two collections explore two different themes: Rihanna's Barbadian roots, symbolized by the island's lush gardens and carnival atmosphere, and the star's own personality, expressed in geometric shapes.
So far, only two pieces of the luxurious haute jewelry collection have been unveiled, worn by Rihanna at a few recent events. But all pieces will soon get a red carpet debut at the upcoming Cannes Film Festival in early May to mark the 20th year of Chopard's presence as an official partner to the film event. Crafted from ethical 18-carat Fairmined-certified rose gold, the line will also include ceramic — a first for Chopard — in a shade of "jungle green," exclusively selected by Rihanna and a nod to the verdant isle of Barbados.
The slightly more "democratic" collection is being less secretive, comprising nine pieces based on Chopard's signature geometric Ice Cube shape. Prices range from 1,200 to 9,600 euros and includes everything from rings to a sautoir necklace. The collection is already available for pre-order on the Chopard website and will arrive in store this June.