Philmi SuperYacht - Luxury Retail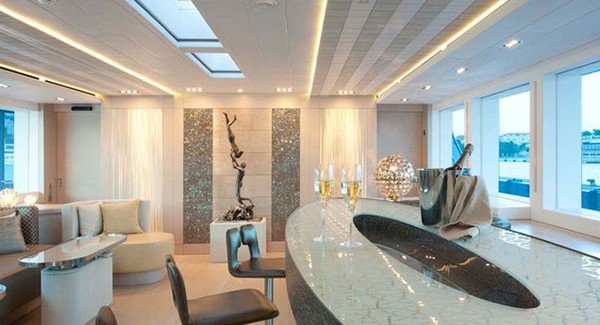 Swarovski crystals bring sparkle to Philmi Yacht, Interior designed by MELOT+TRILLO
Swarovski, the company Melot + Trillo and naval architect Martin Francis have been responsible for the interior decoration of the Italian superyacht Philmi, built at the shipyard ISA in Ancona (Italy).
In 2006 she accepted her first yacht project, which went on to win the World Superyacht Award in the Semi-Custom Motor Yacht Open Sport Cruiser division.
Philmi, it is the second project undertaken by MELOT+TRILLO for the same owner, and it perfectly reflects his discerning taste and exacting requirements.
Sandrine Melot has used Swarovski's Surface Collection to bring a light-reflective, luminescent glow to interior spaces. The light and beauty of these crystals get enhance the interior space yacht gaining special importance in the dining area. Swarovski crystals combined with other materials such as wood or metal, common in the nautical.
Developed in partnership with renowned naval architect Martin Francis, the Swarovski Surface Collection is a radically different range of treatments that has pushed the boundaries of crystal application.
This megayacht has a length of 43 meters, two decks with jacuzzi custom five luxury cabins. In addition, its powerful engines allow you to reach a speed of 17 knots and has a range of 2800 miles.