New Tom Dixon shop Xintiandi, Shanghai
Tom Dixon Studio Opens Shanghai Hub
Tom Dixon Studio has opened its latest hub in Shanghai as a part of the brand's expansion in Asia.
Located in Xintiandi, the flagship sits within a traditional Chinese building and is surrounded by Shikumen, a Shanghainese architectural style that blends Chinese architecture and social behavior with elements of Western design.
Shikumen, which translates to 'stone gate', is a Shanghainese architectural style which blends traditional Chinese architecture and social behaviour with elements of Western design.
For the hub's design concept, Tom Dixon Studio referenced the 100-year history of the Shikumen buildings for the store exterior, apparent in the design of the double wooden doors of the main entrance gate, geometric wooden patterning on the windows, and a central courtyard. Whilst the design of the exterior has been retained as a nod to the building's history, the interior has been significantly updated to represent a minimalist, clean, and industrial aesthetic.
"China is one of our most important markets," commented Tom Dixon Studio's CEO, Hans Hoegstedt. "We searched for 2 years for this location with the intention to support China's design community. Our Shanghai hub is designed to be a place where our customers can fully experience Tom's extraordinary products."
Located on the ground floor, the layout of the hub is open plan. Referencing the Shikumen organization of spaces, the rooms are arranged around a Central Hall and Courtyard, with each room adjoining the next. The Living Room, Library, Bathroom, and Office are defined by changing typologies and products rather than walls interrupting the space. Materials that are intrinsic to the brand's identity such as stone, metal, and glass also distinguish the areas.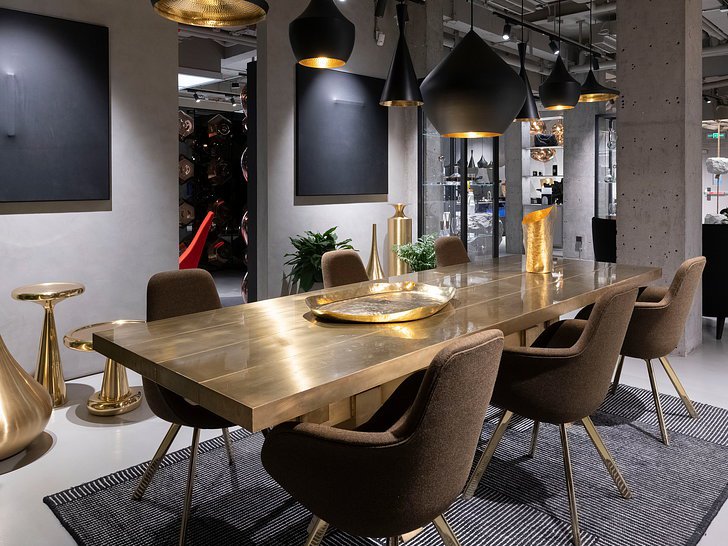 The hero products, which feature in the Shanghai hub include FAT, SPRING and WINGBACK, as well as pendant systems displaying multiple combinations of MELT, MIRROR BALL and BEAT. For the first time in China, Tom Dixon's veteran Bird Chaise will be available at the new Shanghai hub.