Kava & Chai, Dubai - Luxury Retail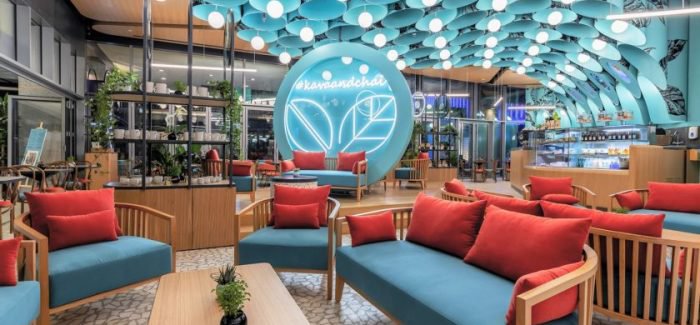 Kava & Chai, Dubai International Financial Center, Dubai – United Arab Emirates
Kava & Chai is a homegrown coffeehouse that projects Arab culture and traditions surrounding tea and coffee in a positive and intimate way.
This 1,800 sq.ft specialty coffee shop is located in Dubai International Financial Center and has an exquisite interior which is unusual, astounding, and in complete balance. It has a striking concept and strong character that provides depth to the design.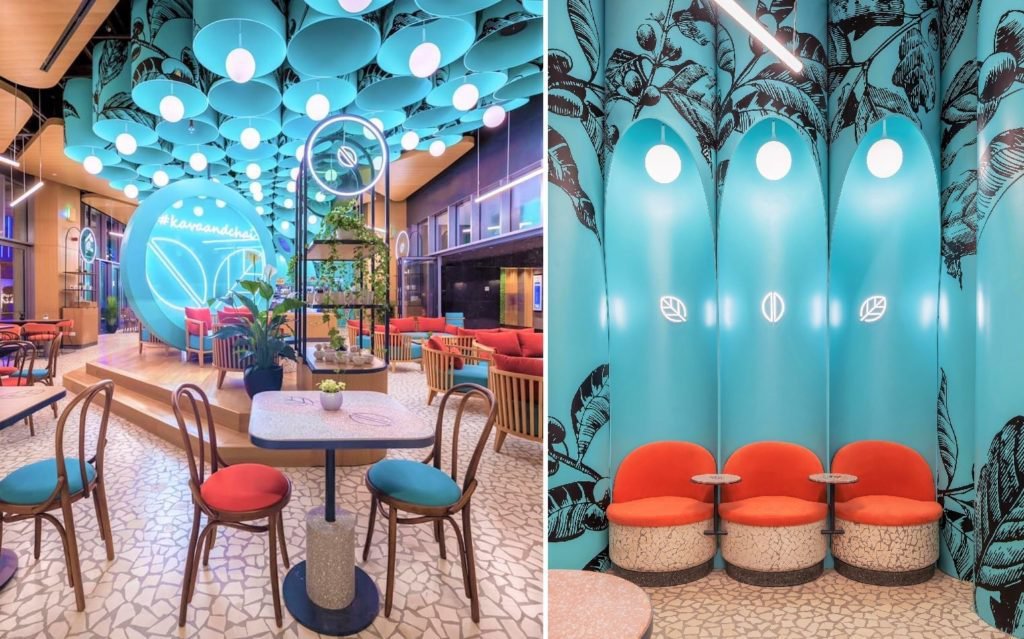 Be startled on the ceiling that serves as the focal point of the design. The teal structured pipes with leaf graphics are inspired by the coffee roaster machine that the café uses at the back of the house. These massive pipes in the ceiling were designed using a parametric process which is based on the algorithm. It utilizes the latest techniques to set up the structural geometry of the project.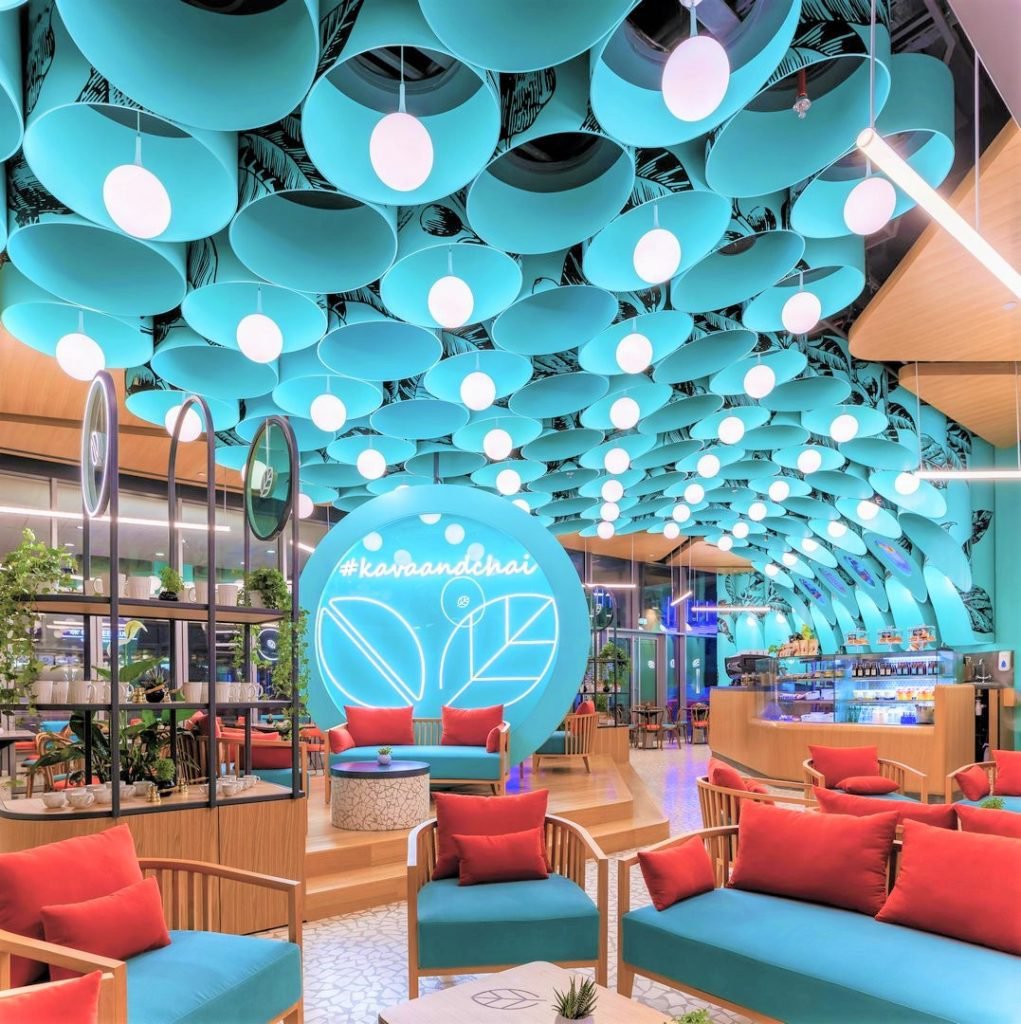 The intention is to create a space where people can have a richer experience with a cup of coffee or tea without feeling time pass them by. The color palette is originally based on the corporate brand of Kava & Chai and was enriched by the leaf pattern to promote its identity. The entire space provides a cool and calming attribute of sophistication, creativity, energy, and wisdom.
Together with the customized lighting design that emits a soft glow, the natural quality of the materials creates a mesmerizing rhythmic visual effect enhancing the ambiance of the space.
Terrazzo is mainly used on the tabletop because of its features being elegant and exuberant. It has a long-lasting finish that performs with a touch of class; valued for its integrity as much as its appearance. While on the floor, we have executed Palladiana terrazzo that is now known under sustainable products.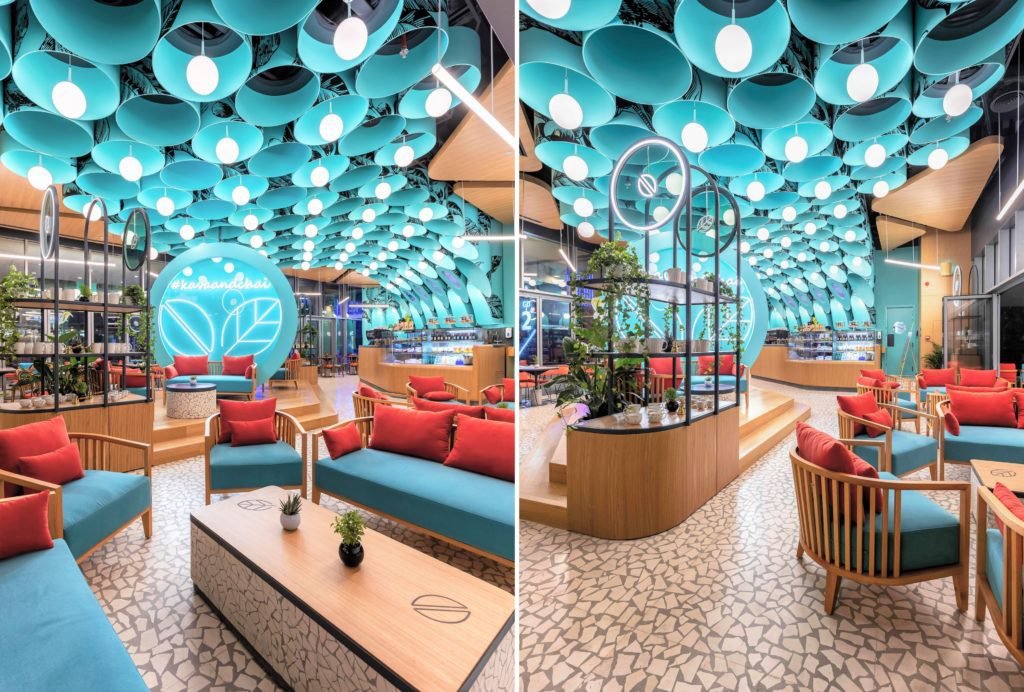 For the chairs and seating pods, Pantone's live coral color was used, that simply blends on the vibrant look and feel of the café. For the counter, was used Oakwood for its solid hardness with some inlays of coffee beans and tea leaf.
The design created a successful narrative from the brands' history and turned a dull and boring space into a more productive yet cozy and Instagram worthy place. Enjoying the mood amidst the busy world in the financial hub of Dubai.