GUCCI GARDEN ARCHETYPES to Celebrate the 100th Anniversary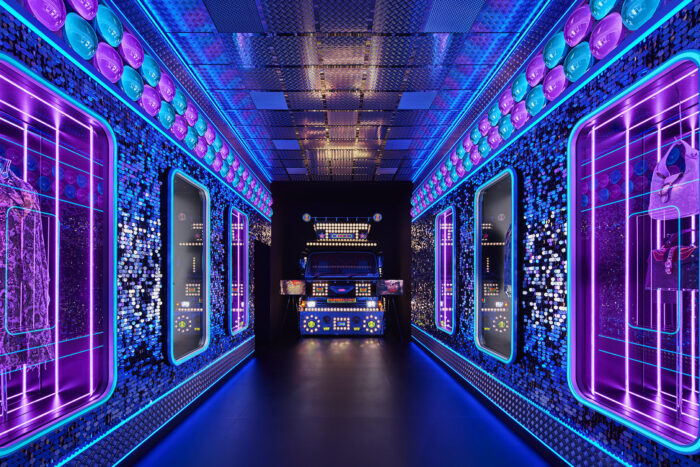 Gucci Garden Archetypes is a kaleidoscopic showcase celebrating the Italian fashion brand's 100th anniversary
It's a big year for Gucci: the luxury fashion house is hitting its 100th anniversary and creative director Alessandro Michele is celebrating in a big way.
Following the Gucci Bamboo House pop-up that opened in Kyoto this summer, the brand now has a new immersive exhibition in Tokyo to commemorate its centennial birthday. The exhibition, titled 'Gucci Garden Archetypes', first launched at the brand's birthplace in Florence, Italy before making a stop in Hong Kong and arriving in Tokyo's Warehouse Terrada in Tennozu Isle.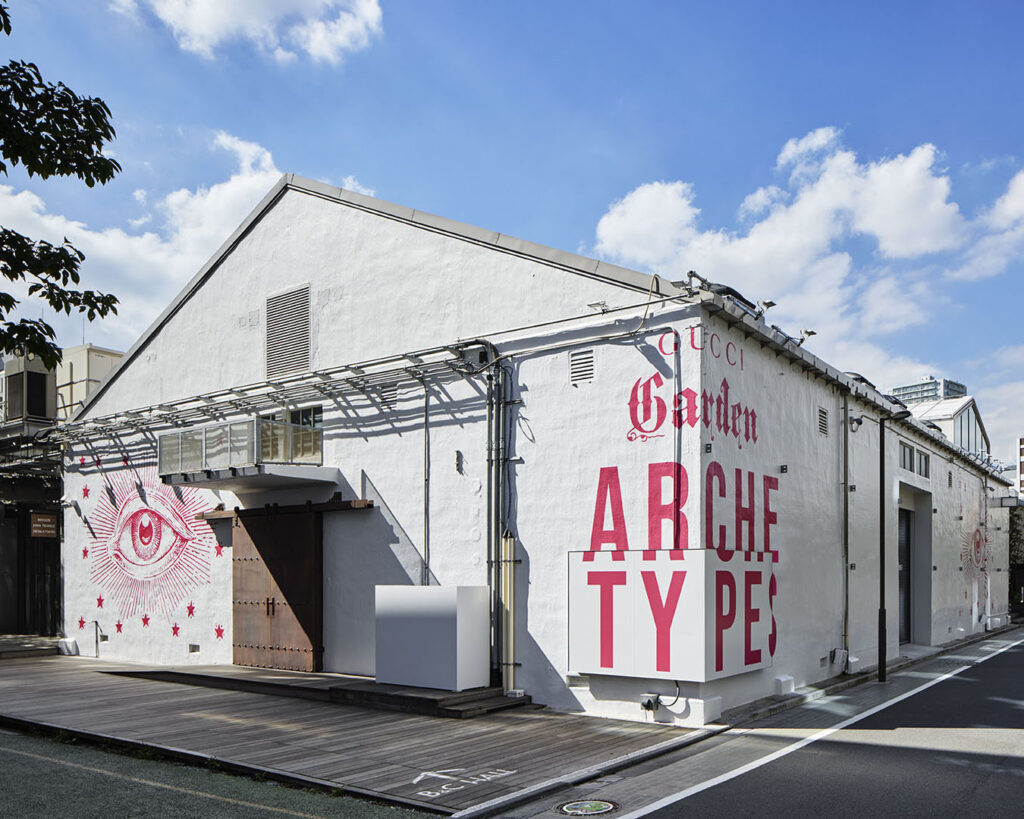 The exhibition is not only a splendorous affair, but also quite elaborate, exploring the abundance of sources that the luxury brand has tapped into for inspiration—from art and pop culture, to music and cinema, to create the fifteen major advertising campaigns orchestrated by Michele during his highly successful tenure. Presented across various rooms, using cutting-edge technology and innovative scenography, visitors find themselves immersed in evocative spaces, each with a different narrative, and all designed by Michele in collaboration with Florentine design bureau Archivio Personale.
There's a lot to take in, with spaces like the Control Room featuring an array of 30 screens with motion picture visuals of serene landscapes, partying pop-stars and anarchic demonstrations in city streets. In another room is a separate set of monolithic screens playing clips of dancing models clad in geek-chic wear from the 2016 Gucci Cruise campaign.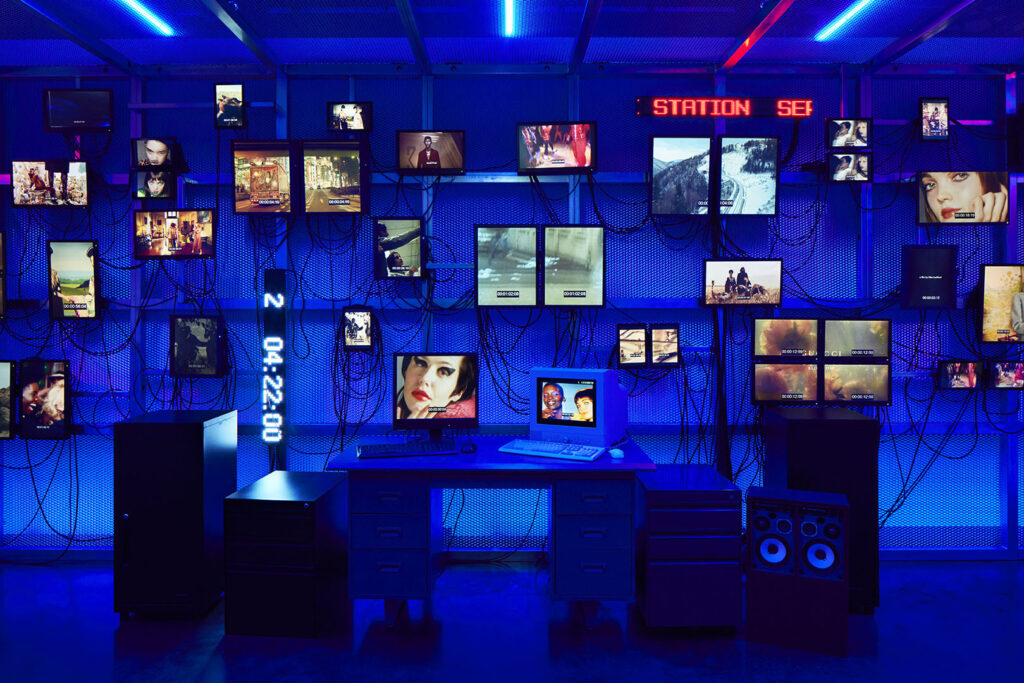 Highlights include the Gucci Beauty room which features footage of a specific ad campaign for the Lipstick collection which claims to be 'for the bold, the shining, on countless multi-screens for an immersive experience.
In the Gucci Bloom room a rich scent permeates the air while the setting evokes a floral paradise. It's a setting Michele has imagined for actress Dakota Johnson, feminist artist and photographer Petra Collins, and actress and model Hari Nef who he sees as icons of modern femininity.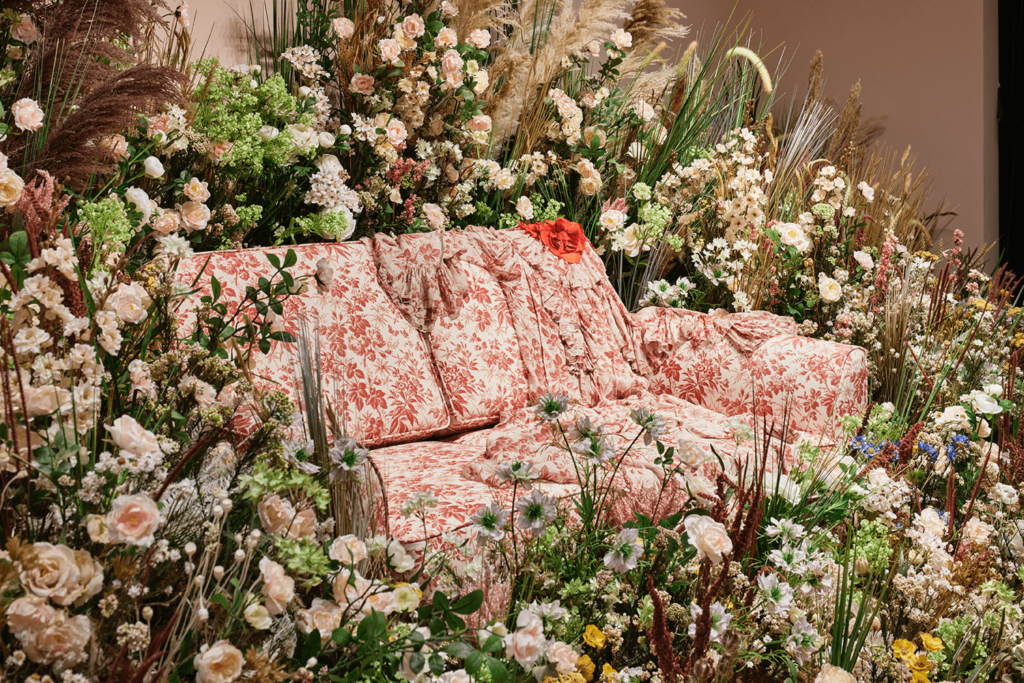 As said, a number of spaces are dedicated to the brand's advertising campaigns, including a room dedicated to the 2018 Pre-Fall Collection advertising campaign which pays homage to the youth who participated in the 1968 May Revolution in Paris, which celebrated its 50th anniversary that year, featuring an abundance of graffiti.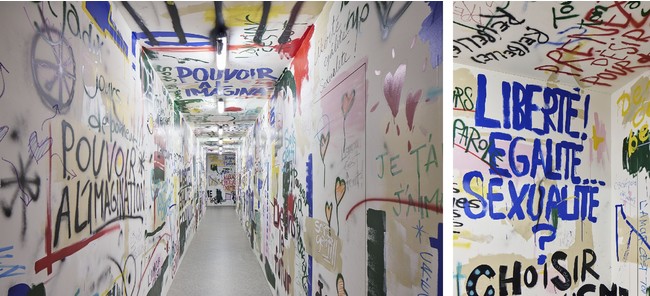 While the imagery is eclectic, the rooms are tied together by the fun-loving and spontaneous nature of Michele's work, providing visitors with a comprehensive exploration of Gucci's recent revolution.
In an interview with Vogue, Michele described the purpose behind his approach to reshaping Gucci's image: 'We've made Gucci excessively eclectic because we live in an excessively eclectic reality. The brand has just soaked it all in.'
The exhibition is free and will be available through to October 31, but you must make a reservation before visiting. Book via the Line app by adding Gucci as a friend, opening the chat screen and tapping on the Gucci Garden Archetypes banner.
If you can't make it to Tennozu Isle, you can tour the virtual gallery online here.