FUJIFILM X-T1GS GLOBE-TROTTER KIT - Luxury Retail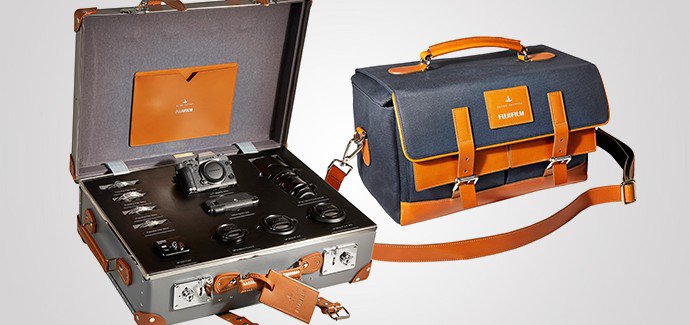 Fujifilm has collaborated with British luxury luggage manufacturer Globe-Trotter for the third time to create another exclusive mirror-less camera kit, the X-T1GS case.
Beautifully crafted by hand on original Victorian machinery at the Globe-Trotter workshop in Hertfordshire, England, each bespoke, 21? Trolley Case features a Fujifilm X-T1 camera body in Graphite Silver. In addition to it, inside the case you'll find a range of hand-picked award-winning Fujifilm FUJINON Optics, dedicated accessories and an engraved Apple iPad Air 2 16GB. There are also dedicated slots on the case for a set of lens filters, a vertical battery grip, and an EF-X20 flash unit.
The exclusive camera kit also includes a unique handmade Day Bag meant for you to carry around the camera along with its accessories. The premium bag features leather straps, internal dividers, and the Globe-Trotter logo embossed across the front next to Fujifilm and Harrods logos. With a limited edition of only 10 pieces, the X-T1GS camera kit is priced at €11,500 (approximately $14,000) and exclusively available at Harrods.