Ferrari Maranello Flagship Store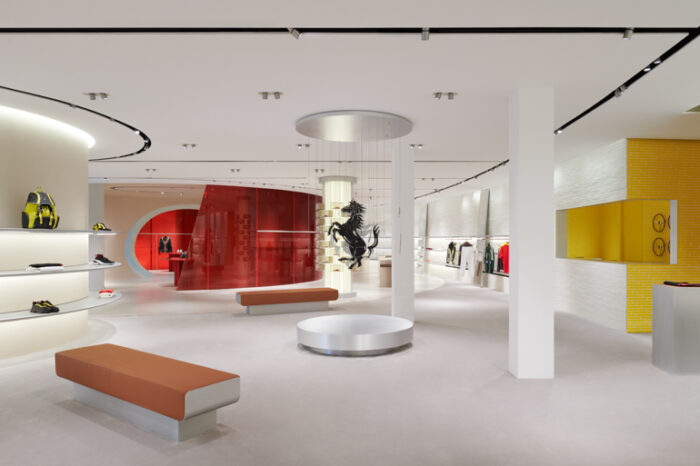 Ferrari unveils glossy lifestyle concept store designed by Sybarite
The iconic Prancing Horse logo is no longer just a metallic emblem to be found on luxury cars. Under the creative direction of Rocco Iannone, Ferrari is expanding its brand into the lifestyle segment by offering clothing and accessories, thus creating the need for a series of branded stores that echo the spirit of its high-class Italian ethos.
The first and flagship location of such a retail experience has been established in Ferrari's hometown of Maranello, Italy and is designed by English firm Sybarite, which will also oversee the creation of future Ferrari stores in Milan as well as Miami and Los Angeles.
The Maranello flagship highlights a contemporary take on the brand's philosophy and imagery with a high-definition, inspiring and immersive vision that is based on the relationship between man and machine, as well as the subtle and sophisticated balance between craftsmanship and the avant-garde.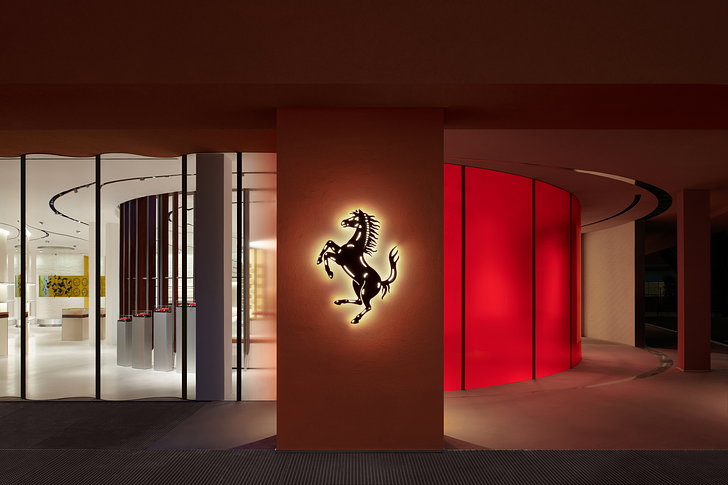 The same three materials and colours have been chosen to ensure a consistency of design and storytelling, these are terracotta, glass and clay bricks. The colonnaded terracotta façade evokes Italy's classical heritage, through which a tantalising tableaux of the interior can be glimpsed. Offering a more contemporary note to counterpoint the exterior, glass was opted for – a material that can be colourful, can curve and ripple in a sinuous movement. Through the store's interior sweeps a red ribbon of glass, the fluent lines running like a wave in the traditional red of Ferrari and replicating the curves of the Fiorano Circuit track.
Behind the glass is a wall of white bricks that serves as a backdrop for the products; the clay bricks represent the initial clay modelling process for Ferrari prototypes before the cars are turned to metal forms. A curving continuous shelving system of brushed metal emerges out of the wall of clay bricks and expands to become a full depth shelf, running the whole expanse of the store and creating a dynamic retail display with shelves and rails.
Once in the store, visitors can move between distinct zones that add to the experience of discovery and theatre from the capsule to the adaptable sales areas.