Fendi opens new New York flagship
Fendi Makes Splash In New York With Flagship
FENDI has opened a new flagships store in New York City, now relocated on the corner of 57th Street in Manhattan's Fuller Building.
Spanning over 6,900 square feet, Women's and Men's Ready-to-Wear Collections, accessories, and leather goods are presented across two levels featuring Kim Jones debut Fall/Winter 21-22 collection for the house.
The landmark building, originally designed to house art galleries, is reinterpreted in a one-of-a-kind concept realized by FENDI, in creative collaboration with Artistic Directors Kim Jones and Silvia Venturini Fendi. Thet two have transformed the idea of a gallery into a new contemporary vision.
As a symbol of heritage, the facade maintains its original aesthetic to preserve the building's historic appearance. Paying homage to FENDI's headquarters in Rome, six see-through led curtains show images of the famous Palazzo della Civiltà Italiana. The theme of the windows is inspired by iconic FENDI signatures, transforming in a 'new way' the parchment leather from the FENDI Archive trunks, the Selleria stitching, new modern gold metal, and the recognizable silhouette of the iconic Peekaboo bag.
The combination of contemporary and traditional influences makes this reimagined experience so iconic. Upon entering, guests immediately discover a glass sphere suspended from the ceiling. Visible from the façade, the glass sphere is a unique experience for the clients.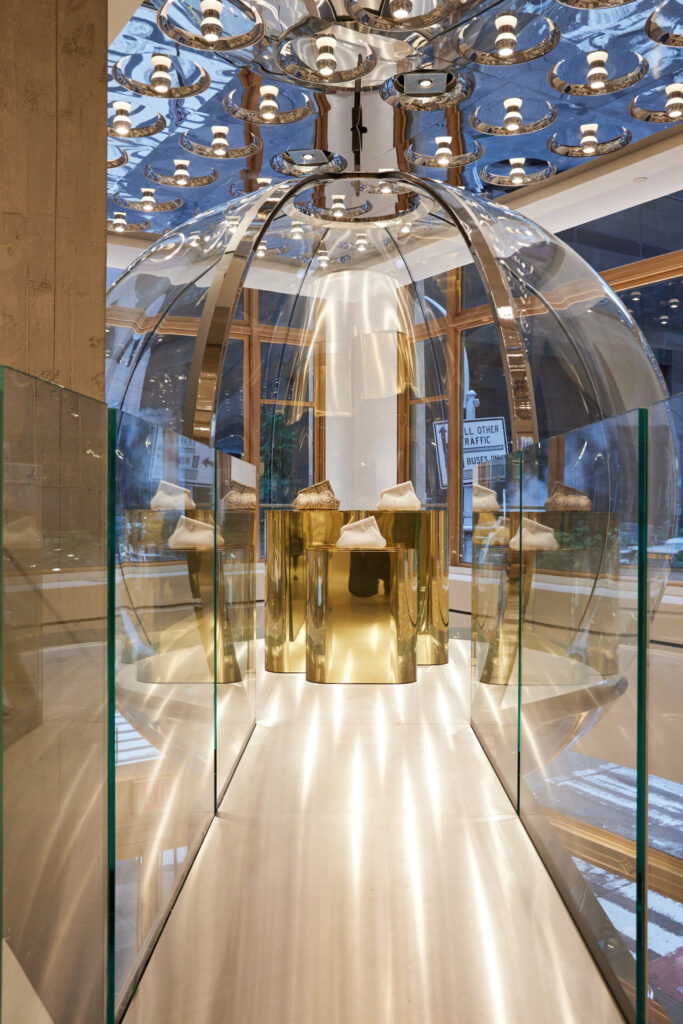 Accessible through a floating mirrored walkway, customers are invited to enter and immerse themselves into the interior. The golden sphere displays a precious FENDI First bag sculpture realized entirely in marble and signed by Silvia Venturini Fendi and Kim Jones.
The interior plays with materials that highlight FENDI's codes and tradition of dualism, pairing industrial cement columns and beams with luxurious touches of marble, brass and steel, accentuated with plush carpeting. Arabescato Vagli marble recalls the architecture of Roman churches, creating a grandeur atmosphere that celebrates FENDI's roots.
Leading up to the shoes area, central concrete benches with leather cushions and gold elements run parallel to the room. Luxury and craftsmanship meet unexpected and surprising twists rooted in Italian heritage.
Up the marble staircase, the second floor opens to a display of Women's Ready-to-Wear in an open space area with a soft palette of ivory and natural tones accentuated by hues of warm gold. The majestic area is filled with exquisite Italian designed furniture that immediately uproots you to Italy.
Sliding three dimensional brass doors unveil the VIP Room designed to have a soft cocoon feel created by curved ivory mohair walls and pink carpeting. The intimacy of the VIP room presents a nice dichotomy to the magnificence of the rest of the store.
A special lounge area with glass walls and luminous ceiling enriches the client experience and can be privatized with ivory curtains. These curtains are decorated with an archive version of the FF logo designed by the brilliant Karl Lagerfeld. Adjacent to this space, a Men's area carries a warm and masculine feeling with wooden accents and leather sofas.
The concept of whispered luxury is expressed in each fitting room. Each changing room reveals a vibrant color story, filled with fur benches, carpeting, metal ceilings and precious marble walls such as Pink and Juliet Crystal, Green Patagonia and Alaska White.
Launching on July 21st, FENDI will offer a 360 virtual store for guests to experience the design of the new flagship on FENDI.com, where they can enjoy shopping the new boutique from any location. Paradoxically, FENDi makes this ultra-lux experience a bit more accessible.
Visitors will be able to virtually experience exclusive services and spaces such as VIP rooms, create wishlists, and live chat.