"Cruise Collection" by Jimmy Choo - Luxury Retail
Creative director of Jimmy Choo, has mixed all the ingredients for a delicious collection Cruise '14.

" I've been in the shoes of a mixologist and created a cocktail menu for the Cruise collection this season. I've merged the excitement of the season of social events into designs that reflect the glamor of a party with champagne and relax the edge of a pool sipping a margarita. " Sandra Choi, creative director of Jimmy Choo.
Cruise Collection
Champagne
The looks of Jimmy Choo for the evening include a palette of gold and silver and black or white.
XENIA strappy sandal, made with black, is the ideal style for the holiday season and accommodates both glamorous evenings as dinner at sea. The feet are covered with sandals jewelry as COLADA, COOLER, ESCAPE and FLAMBE, studded with precious stones.
Martini
Combined with a tropical palette of lychee, lime, lemon and grapefruit on a female looks for day and elegant. The colors are lined up in impressive details SUNDAY block a toe platform shoe with sharp and pulls at half height, and TERRY, a modern version without heels with the same color palette triple … not to mention the handbags and day bags.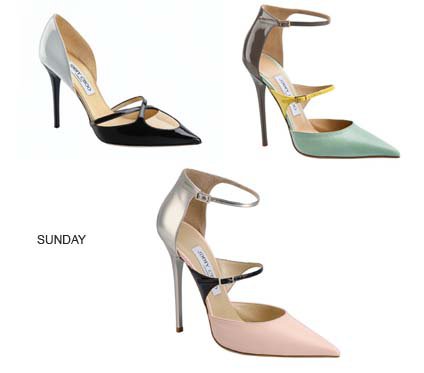 The sumptuous snakeskin lemon and black patent leather glossy MILL come to light, a shoe with platform and tapered toe with artistic detail on the side.
And for martini purists, Cruise collection offers a classical performance on a minimalist black and white palette. Jimmy Choo enters a world of women and full of delicacy with IRIS, a fun version of a classic-modern style square heel.
Daisy
The exotic destinations attract Jimmy Choo woman and overflowing collection styles adapted to warmer climates. SANGRIA sandal is adorned with garlands of beads ideal for an evening session of salsa.
Artisanal touches also be noticed in the booty FUEGO peep-toe mesh with pearl beads that mimic hand-sewn and PROMISE espadrille sandal embellished with braided raffia sole covering the platform.
Scotch and Soda
The black suede boots and whiskey, with wide heels and double straps that hug the ankle, offer a modern alternative to classic BIKER style.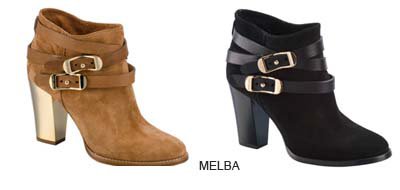 The Oxford shoe in clogs and lace-up versions, with color blocks in black, silver or stone on the toe and heel.
A full range of sneakers undergoes treatment with micro-rocker studs, suede with glitter or snake leather details.
By mundodelujos.com