Tokyo open their 1st Chanel Beauty House - Luxury Retail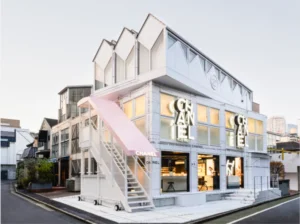 On

09/05/2022

http://luxuryretail
Chanel opens boutique in Tokyo
In a market as mature and savvy as in Tokyo, Japan, luxury brands go to great lengths to raise their profile and attract customers. And Chanel is no exception.
The iconic Paris-based fashion house has a huge following in this land, not only in fashion but also in cosmetics and fragrance. It is in the latter category that Chanel is changing tack, opening a new dedicated beauty boutique in Tokyo.
Officially called the Chanel Beauty House in Tokyo, the retail space is situated just behind Chanel's flagship store on bustling Omotesando Dori. It is located in a maze of alleys lined with luxury boutiques.
It's been a complete makeover by the brand's in-house design team. Now you see a facade bathed in while and overlaid with lines of sewing patterns and phrases from the brand itself.
To one side is a mobile staircase with an elegant canopy in soft pink.