Casa Loewe Portugal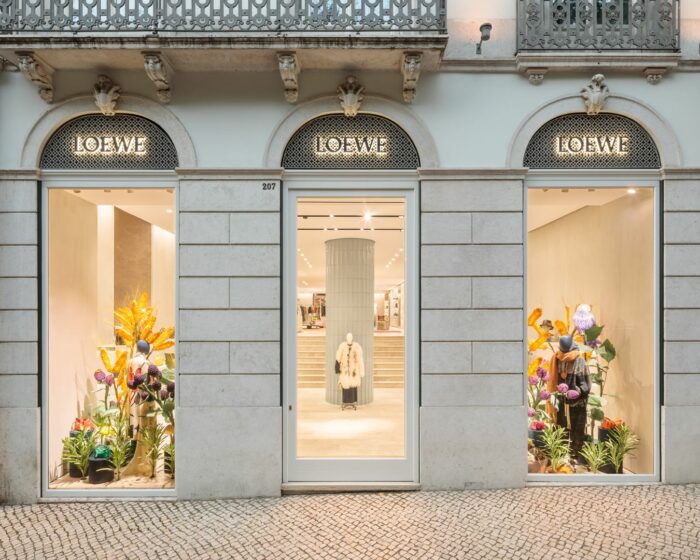 The first Casa Loewe has already opened in Portugal
A Loewe has just landed at number 207 Avenida da Liberdade, the most luxurious avenue in the Portuguese capital, in a space measuring 400 square meters (m2), where complete lines of ready-to-wear, leather goods, jewelry and women's accessories abound men.
The exterior, with its original façade and stone windows, has been fully restored and features a 75 m2 terrace. Led by creative director Jonathan Anderson, the Lisbon store's 'design' concept incorporates Loewe elements, while paying homage to the Portuguese city. Materials such as brass and concrete create a strong contrast with the central pillars, covered with ceramic tiles by Viúva Lamego, a small Portuguese company founded in 1849.
Throughout the store's interior there are contemporary furnishings, including handcrafted Abaca fiber rugs, the iconic Utrecht armchairs and Steltman chairs by Gerrit Thomas Rietveld, and the Floating Stone table by Axel Vervoordt. The characteristic Loewe glass podiums filled with everyday objects are also incorporated throughout the space.
As art has always been a central topic for the brand, Casa Loewe exhibits a selection of works by international artists, including Forest (2019), an acrylic sculpture on papier-mâché by Brazilian artist Erika Verzutti, whose practice often combines objects everyday, like fruits and vegetables, with ceremonial forms.
Also on display are two works by the finalists of the Loewe Foundation Craft Prize 2019: a piece from the Dichotomy sculpture series (2019), by British artist Harry Morgan, which received a special mention, and Collection of Contained Boxes (2018), a composition of three pieces by British artist Andrea Walsh. These pieces share space with Bowl (2014), a ceramic work by Japanese artist Takuro Kawata, and a series of oak vases carved by Jim Partridge and Liz Walmsley.