Harrods "Witness a Spectacle" - Luxury Retail
Interactive, Augmented Reality Shop Windows for Harrods
Visualise together with Harrods, we created a large-scale augmented reality experience which blends their famous Christmas window displays with hyper-realistic 3D animations, all delivered through next-gen WebAR technology in a mobile browser.
Each year, tens of thousands of people visit the Harrods department store to see their famous Christmas window displays along Brompton Road. This year's theme, "Witness a Spectacle" is centred on an enormous feasting table that runs the entire length of the store. The individual windows feature a beautiful array of objects from luxury brands including Miu Miu, Bvlgari, and Carolina Herrera.
We were tasked with adding an extra dimension to this year's displays by turning four of the department store's windows into a live augmented reality experience. The creative brief was to design something that would play on some of the more traditional elements of Christmas, such as toys and Christmas music, but then add an unexpected twist to the experience.
We proposed to create a bespoke 'automaton' character – an early form of self-operating robot made popular in the 19th Century – complete with a Harrods 'H' breast plate.
At first, the automaton appears as a clockwork toy, moving awkwardly in time to Swan Lake as if perched on a music box. Mid-way through the animation, the character becomes 'self-aware', removes the mechanical restraints from its feet and begins freestyle dancing in the window.
As a further surprise, the robot jumps up and smashes the window with a kick mid-dance, before finishing up and collapsing back in to it's start position.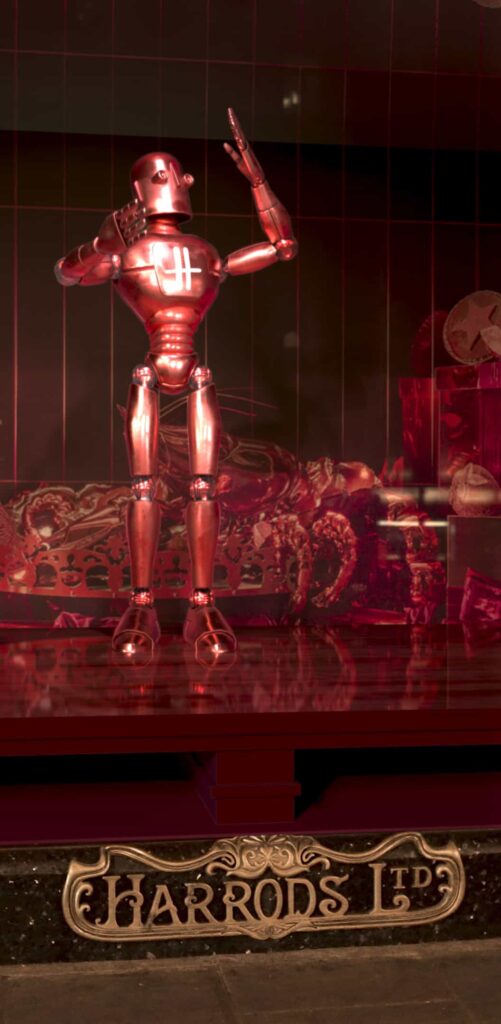 The 3D animation was designed by our VFX team who used motion capture techniques to create the movement for each version of the experience.
Once the scenes were completed, our development team then worked to further optimise the 3D animation for playback in a mobile web-browser, adding realistic reflections and lighting to the scene. It had to be carefully optimised and tested on a range of mobile phones getting the best balance of look and compatibility.
To make everything look as realistic as possible, our development team used 8th Wall's image and SLAM tracking software, together with a custom-built suite of tools to track the animation perfectly to the windows. Finally, we added the facility for users to capture and share their experience which until very recently, was virtually impossible in a browser.