Cartier opens a new Boutique in Palma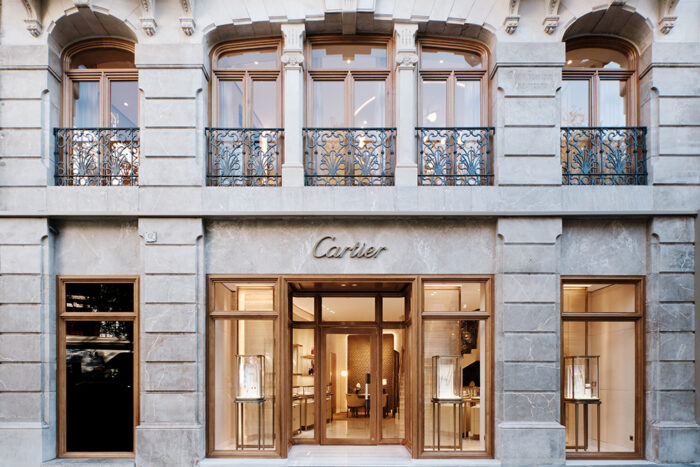 The new Cartier store in Mallorca: a journey across the ocean
Located in an emblematic building in Mallorca, the new Cartier store is inspired for decoration on a journey across the ocean, from the depths to the reflections of the surface.
An evocative journey from the depths of the ocean to the luminous surface, that is what Cartier proposes in the decoration of his new store in Palma de Mallorca. And all this, under the incomparable setting of one of the most emblematic buildings on the island, Can Tous, built in 1922 by the Mallorcan architect and urban planner Gaspar Bennazar and in a neo-baroque style. It is clear that there, everything is a jewel.
"From the marine biodiversity of the algae in the bottom, through the marine life of the water, to the surface of the glowing horizon, that has been the inspiring idea for the decoration, a journey across the ocean", they say from the Maison.
The interior design of the new Cartier Boutique in Palma de Mallorca follows the parameters of the latest Cartier boutique remodeling. Red and gold, Cartier's two fetish hues, are still untouchable, but blues and greens are added to them that give a studied Mediterranean air to the interior of the boutique.
The boutique, with 160 square meters spread over two floors, presents an innovative concept and a distinctive decoration that combines the characteristic luxury of the Maison Cartier with details inspired by the Mediterranean Sea and Majorcan craftsmanship where warm and luminous tones stand out. Its ground floor is inspired by the seabed with the algae printed on the panels that decorate the walls, its curved lines throughout the store simulate the movement of the sea, the pots are large amphorae sunk to the bottom of the water.
The staircase that connects the seabed of the ground floor with the first floor is built of marble and wood with the special varnish that ships receive, also, a long lamp in the form of bubbles communicates these two rooms.
Thus we come to the first floor, the surface of the sea. The space is bright, clear and bright depending on its background. The panels are textured with more neutral and softer colors, also with light wood. The inspiring atmosphere is the ship's hulls, the organic linear movement of the sea breeze, and the silent sky with intersecting clouds, all together dictating the patterns of these Watchmaking, Accessories and Diamonds areas. The VIP lounge is a space that offers an intimate organic experience, warmly surrounded and decorated with local flora to fully immerse yourself in a cozy and private atmosphere.
The Mallorcan nod comes with the fabrics of the cushions and the upholstery of the chairs, these being in Ikat fabric, the doors that separate the bathroom and the VIP lounge simulate the doors of ships and the Mallorcan shutter.