Apple Tower Theatre Opening, L.A. - Luxury Retail
A Majestic New Apple Store Is More Than a Place to Buy iPhones
The new store marks the completion of an extensive historic restoration project and the first Apple Store downtown.
In the Broadway Theater District, Apple worked for years with preservation experts, restoration artists, and the City of Los Angeles to reimagine and reactivate the historic Tower Theatre at 8th and Broadway streets.
Initially opened in 1927, the 900-seat Tower Theatre by Chicago-born architect S. Charles Lee was the first theatre in town wired for film with sound. As many other structures in the neighbourhood, it had been neglected and abandoned since 1988, but eventually, Apple came to the rescue.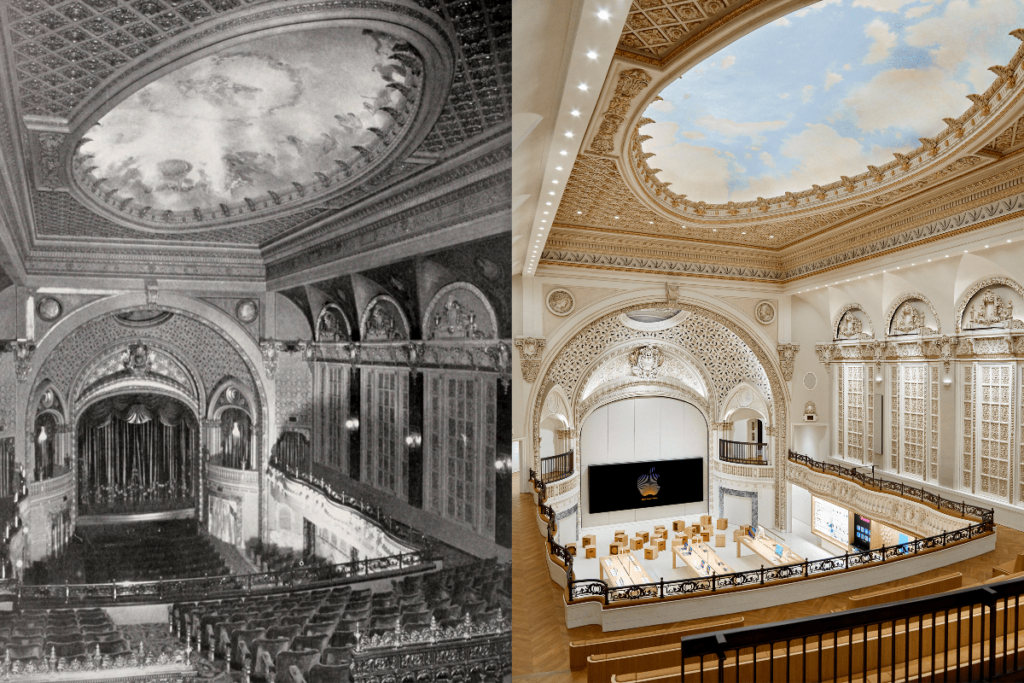 The computer behemoth tapped acclaimed architecture practice Foster + Partners to restore and redevelop the premises. After walking through the doors, shoppers enter the monumental lobby inspired by Charles Garnier's Palais Garnier opera house in Paris, featuring a grand arched stairway with bronze handrails flanked by majestic marble Corinthian columns.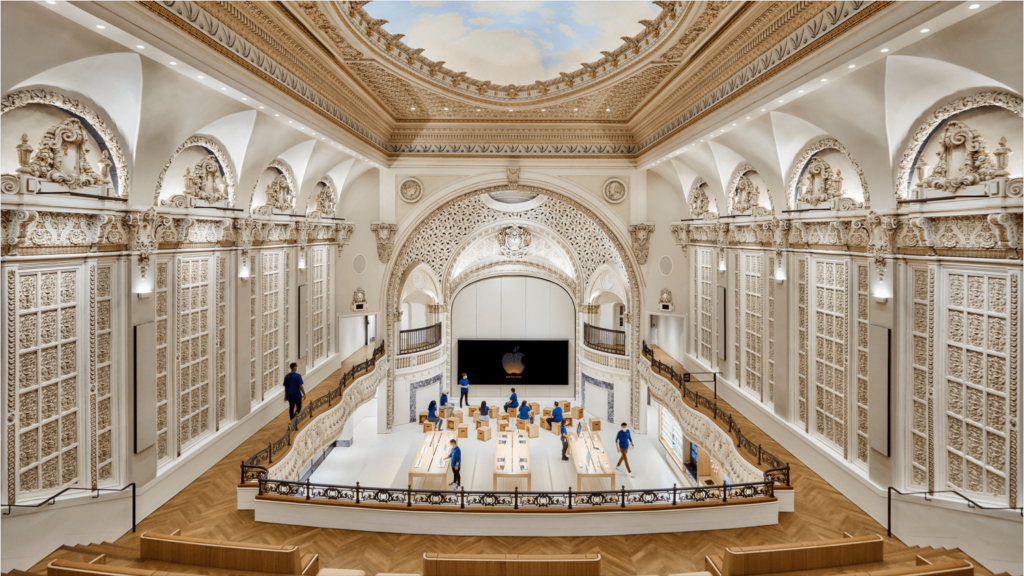 Apple Tower Theatre recalls the original splendor of the gilded movie palace era, blending thoughtful preservation with cutting edge technology. The new store offers an experience like none before it and will become one of Apple's most significant flagship stores.
In the heart of the aptly called Apple Tower Theatre is the Forum and signature video wall, sitting underneath the fully restored arch and surrounded by the theatre's original balconies. The Forum will be home to Today at Apple, where free daily sessions led by Apple staff and members of the local creative community provide inspiration and teach practical skills. The expansive auditorium, surrounded by embellished arched bays and restored bronze, displays all of customers' favourite products, including all the newest trophy devices.
Shoppers looking for service and support from Apple staff have ample space, as the theatre's original seating on the upper level has been modernised and made accessible to create an open, flexible space for Genius Barappointments. Two new elevators have been installed in the theatre, welcoming all customers to every level of the new store.