Karl Largerfeld x Christofle - Luxury Retail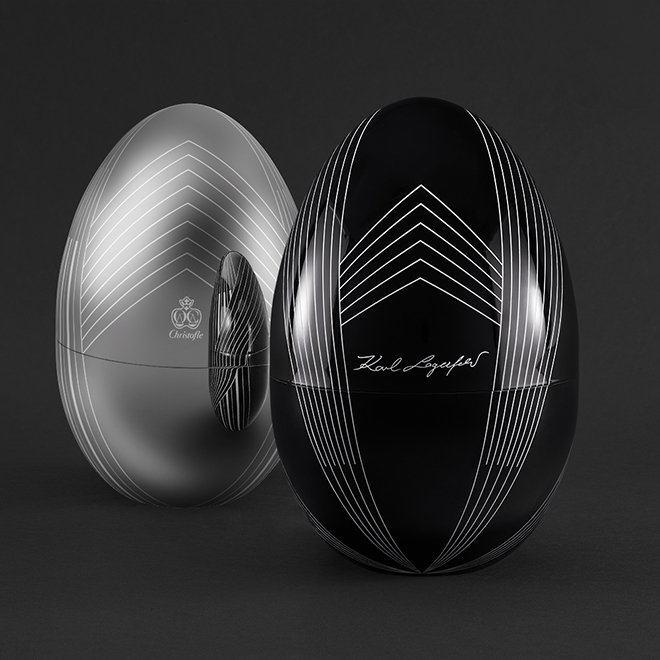 The MOOD With Christofle and Karl Lagerfeld Silverware Collection
A Limited Edition Karl Largerfeld x Christofle cutlery set and egg-shaped storage capsule launching this Fall.
Karl Lagerfeld is a designer with a proven track record for having a golden touch. Always up for a collaboration and always surprising, ranging from H&M's first luxury collaboration to Diet Coke, the German designer is revealed to have a very unusual collaboration in the works.
Karl Lagerfeld sets his eyes on Christofle- the Parisian silversmith, devoted to making exceptional and sophisticated pieces for decorating the home. The limited edition Karl Lagerfeld Christofle MOOD – though set in silverware, is second to no gold.
Christofle's iconic egg from the MOOD cutlery collection, gets transformed by the designer inspired by Art Deco's art and architectures. Karl Lagerfeld is no stranger to the world or Art Deco, having collected multiple pieces from the art period in his own houses, only to sell it off in 2003 to "get with the times." Luckily we are in the age of "The Big Flat Now," where history and modernity, digital and the real are all interchangeable and interlinked. Careers too, with designers being expected to be photographers and DJs too. And who else better to front the current age than superstar designer Karl Lagerfeld.
Karl Lagerfeld melds his longtime influence from Art Deco, and the modernity of today in his limited edition MOOD. Featuring structured graphic lines on the elliptical egg shape, which enhances the contrast of geometry. With just 1,500 exclusive pieces available worldwide, each MOOD is numbered and signed, and will be delivered with its certificate.
Set the table MOOD with Karl Lagerfeld's edition that opens to reveal a 24-piece set of silver-plated flatware: 6 Table Forks, 6 Dinner knives, 6 Tablespoons, 6 Coffee spoons, stamped with Karl Lagerfeld's signature silhouette logo.