No Comments
YSL Beauty Station - Luxury Retail
YSL Announces Gas Station Pop-Up in Palm Springs
YSL Beauty will be hosting their first ever Coachella based pop-up on Route 111 in Palm Springs, California.
Open April 12-14 along Route 111 near Cathedral City, the YSL pop-up hailed as a "makeup oasis" will feature a tour bus, giant lipstick sign, heart-shaped balloons, convertible cars and neon pink gas pumps.
Coinciding with the launch of their new Touche Éclat High Cover Radiant concealer, Rouge Volupté Shine lipstick, Touche Eclat All-Over brightening pen and Volupté Plump-in-Color plumping lip balm, at the YSL Beauty Station festival goers will be able to shop from the make-up vending machine, try up to 50 lipstick shades using VR technology and get expert beauty advice which they can then use during their festival stay.
The pop-up store sits behind the YSL Beauty Station, as it houses the label's newest and best-selling makeup essentials, in addition to a new campaign starring Kaia Gerber.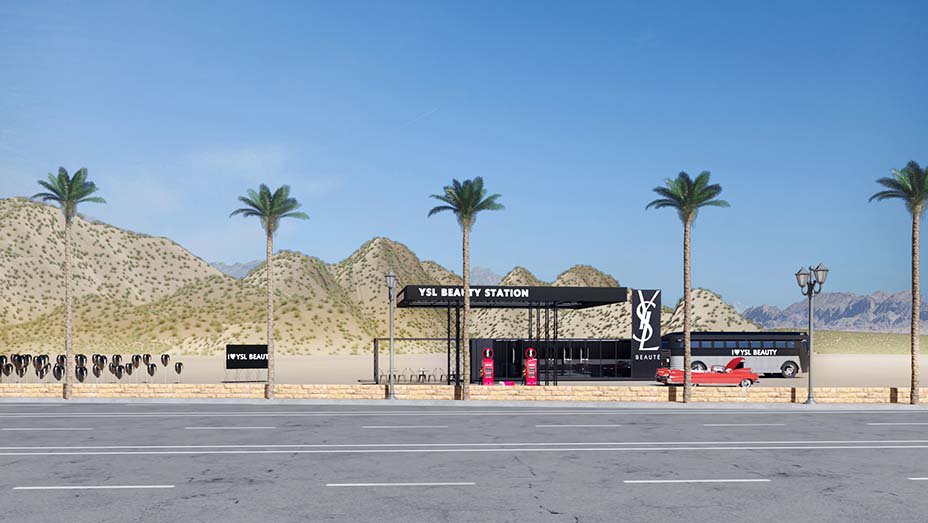 The space includes four areas: one dedicated to the Touche Eclat Radiant Touch pen and the Touche Eclat High Cover Radiant Concealer, one to the Rogue Volupte Shine moisturizing lipstick and Volupte Plump-In-Colour lipstick, one to Tom Pecheux's Palm Springs makeup looks, and finally one to the Make It Yours station where you can customize your favorite YSL lipstick.
Located along Route 111 in Cathedral City, the YSL Beauty Station will be open April 12 from 3 p.m. to 8 p.m. and April 13 and April 14 from 10 a.m. to 8 p.m