Wilderness Cabin from Land Rover - Luxury Retail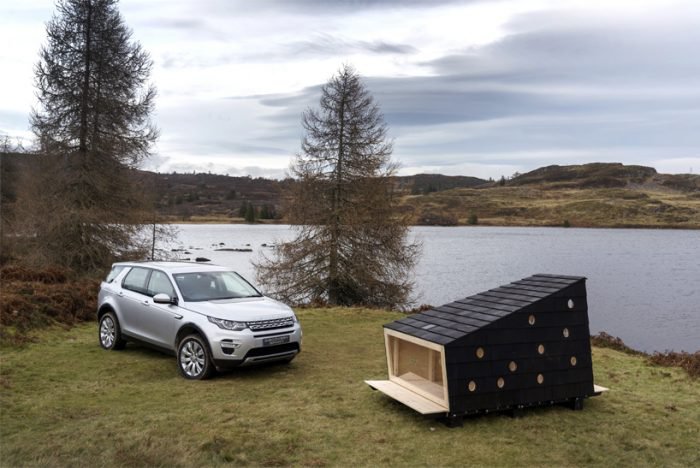 Land Rover builds a compact Christmas cabin that fits inside the Discovery Sport
The world famous car company has applied the versatility, all-terrain capability and contemporary design principles of its Discovery Sport premium compact SUV to a one-off wilderness cabin concept. The little wooden shelter can house two people and has been designed in collaboration with Danish architectural practice LUMO.
With a compact footprint of just 3.5m2, the cabin was able to withstand temperatures of -20°C in Land Rover's cold weather testing chamber. It can be disassembled and once collapsed it fits inside even the smallest model in the Discovery family.
According to Land Rover: "The cabin's trademark design takes its inspiration from the Discovery Sport's panoramic roof. At one end, a tall opening window functions as a door where its full height orientation provides views up to the sky. At the other end a similar-sized opening is arranged horizontally, providing panoramic views of the horizon and an unusual trapezoidal floorplan. In this way, the cabin can be positioned to make the most of the views in any location."
Despite its unusual silhouette, the cabin's natural and sustainable materials ensure it blends into its surroundings. The floor and frame are constructed using Danish Pine, while the sides and roof are made from plywood manufactured from various hardwoods carrying the Forest Stewardship Council (FSC) mark. The cladding uses ecologically-derived Western Red Cedar shingles, which lessen the cabin's visual impact on its surroundings.
The wilderness cabin rests on three wooden struts 212mm above the ground which means it can be installed on uneven surfaces without difficulty. It also features an optional tailgate seat on the front deck, large door openings at each end of the cabin and a solar charging panel in the roof which allows visitors to charge smartphones or tablets even when in remote locations.
Mads Lindstrom, Partner at LUMO Arkitekter, said "The cabin is robust in the sense of both its durability and its flexibility, which means it suits various locations and purposes – much like the Land Rover Discovery Sport which carries it. The cabin would be equally at home in the highlands of Scotland or a remote Scandinavian beach and, with no permanent foundations, its impact on the environment is minimal wherever it goes. The cabin's precise angled shape and the dark shingles are a natural contrast to the warm wood and "hygge" of the interior."
Land Rover will be using the cabin over the next few years to support ongoing partnerships and upcoming events, and it will be making appearances through its network of Land Rover Experience centres.