The Sheraton Lake Como - Luxury Retail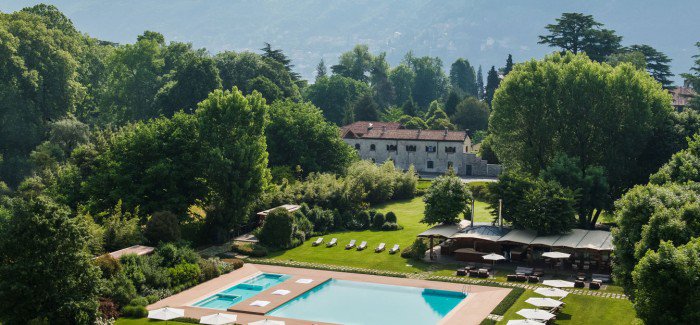 Sheraton Opens as the Only Luxury Chain Hotel on Lake Como
Nestled within a lush 118,403-square-foot park, the Sheraton Lake Como conveys the impression of rural seclusion even though it is only a 10-minute walk away from the town of Cernobbio and a 15-minute ferry ride to Como itself. Opened this spring, following a multi-million euro renovation under architect Ruggero Venelli, this 116-room property is the first international upscale hotel chain on the lake.
Cactus and bamboo plants help create a natural ambience as you enter the spacious lobby with wide marble stairs leading up to Bar Fresco. Relaxing music, leather wenge-colored seating and low-slung tables create a contemporary setting for social get-togethers or informal business networking within the lounge. Guests can enjoy small plates matched such as with craft beers and premium wines selected by Wine Spectator. For dinner, next door to Bar Fresco is Il Gusto restaurant supervised by Chef Carlo Molon who worked formerly at the Sheraton Milan Malpensa Airport Hotel Conference Center. Contemporary in style, it is casual yet elegant.
For guests occupying the club rooms and executive suites, exclusive access is provided to the Club Lounge, a quiet two-room retreat offering complimentary drinks, hot and cold snacks, newspapers and a large screen TV room.
The hotel makes full use of its natural park setting by organizing live music in the summer with an outdoor barbecue and wood-oven pizzas in a gazebo at its Kincho restaurant. Sports enthusiasts can also enjoy free sessions on certain days with personal trainer Iris Ley Aguero who spent more than eight years with the Cuban national athletics team. A special agreement with Tennis Delle Vigne sports center (a five-minute walk away) also grants guests access to three tennis courts and a five-a-side soccer field.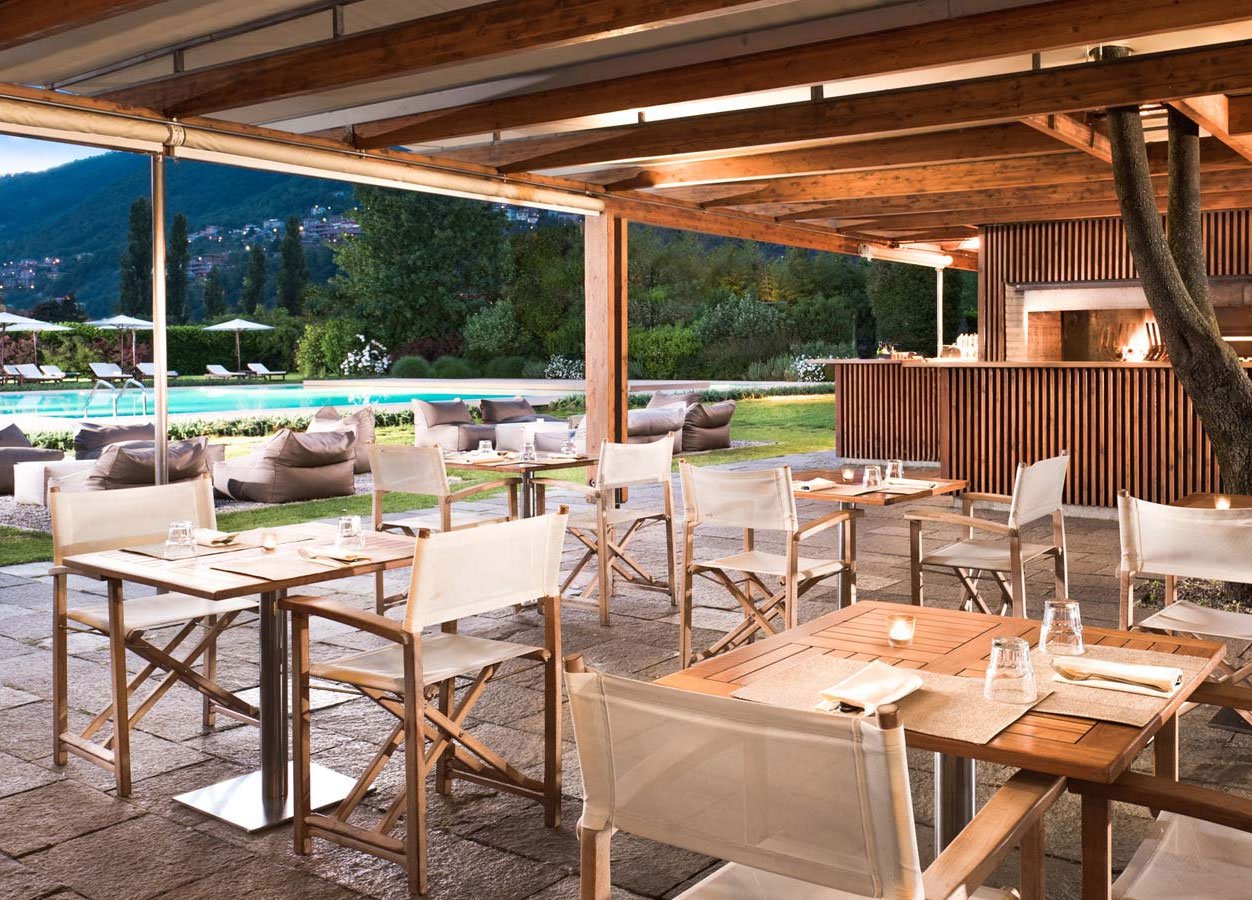 Business travelers are also well catered to at the hotel with Spazio Como, designed by architect Attilio Terragni. The space is a futuristic, glass-and-metal multipurpose auditorium available for events. Its abundance of glass means it is filled with natural light daily, and offers views out over the park. It's big enough to be a car showroom and can accommodate 350 people. While we were there, we attended a launch party for the latest edition of Russian Ozero Komo magazine. The event featured a buffet, a multi-media presentation and a performance by Italian singer Enzo Ghinazzi. In addition, the hotel's convention center, with ten modular rooms, can accommodate 1,000 guests.
Because of its location, daytrips to many of the area's best-known sights is easy such as the 17th century, four-floor Villa Balbienelli. Travelers can spend a whole afternoon wandering through its spacious Italian gardens, enjoying a guided tour through a secret tunnel and hidden stairs, and viewing hundreds of glass paintings and 18th and 19th century engravings of Lake Como. Scenes from several well-known movies have been shot there, including the James Bond classic Casino Royale and Star Wars: Attack of the Clones.
Known as the "Pearl of Lake Como," the town of Bellagio is also a short car drive and ferry ride away. Suspended like a pendant on the promontory where the lake's western and eastern arms split and head south, it features a historic square surrounded by quaint cafés and stores. With further upgrades planned over the coming months, and with its scenic location close to many Lake Como highlights, the Sheraton Lake Como is sure to be on many traveler's lists in 2016.