The new Alexander McQueen Knuckle Box Clutches - Luxury Retail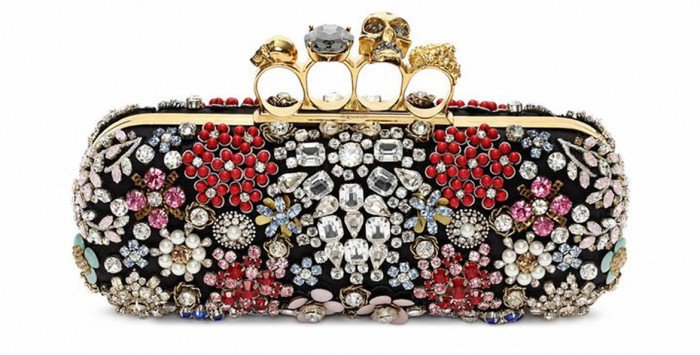 The new Alexander McQueen Knuckle Box Clutches
Alexander McQueen is a name well-known to any self-respecting diva out there, for good reason. The British fashion house, renowned for its knuckle box clutches, offers all kinds of designs, to suit every season, every mood and situation. As such, we reveal to you some of their latest exquisite designs, part of the brand's Autumn/Winter 2015 collection.
First, we'll show you the beautiful red Embroidered Disheveled Lace Knuckle Box Clutch, featuring roses knuckle design in brass hardware and red chrome finish. The silk clutch is priced at $3,595 and comes with contrasting red stitching and embroidered lace all over the bag.
Next, the Red Patent Knuckle Box Clutch shows off a lacquered red glove patent, featuring the same roses knuckle design and brass hardware with red chrome finish. This statement bag is clad with red calf skin leather and will set you back $3,295.
The next season might find you proudly wearing the Embroidered Flower Knuckle Box Clutch. a must-have fashion accessory is a satin silk clutch, dressed in white and multi-color floral embroidery. Festooned with butterfly and flower knuckle design, this bag will cost you $3,895.
Last but not least, the $4,295 Brooch Embroidered Knuckle Box Clutch is a black satin Knucklebox clutch, with all-over brooch embroidery and Swarovski crystal detail rings. It's all up to you to pick your favorite.