The Gommini of Tod's - Luxury Retail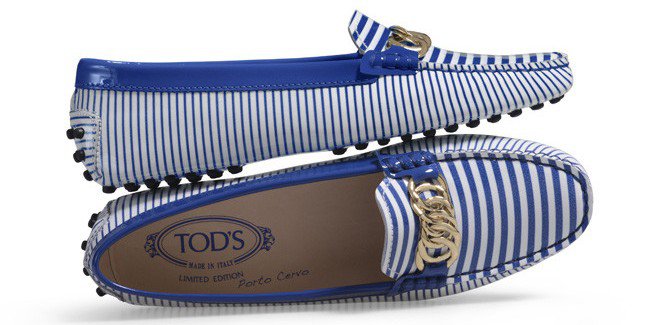 The new collection , limited edition for summer 2014 responds perfectly to elegance that we all associate with the spirit of the French Riviera.
Alessandra Facchinetti , the brand new artistic director of Tod 's, the forthcoming summer season, has not hesitated to change the image of the iconic Gommini Brand, sending manufactured in a bright patent leather with the famous blue and white stripes (also available in red and white or turquoise and white). The new model is soft, light , elegant and fun. Va decorated with a golden chain. Each model carries a message that refers to the location of the Mediterranean which is linked to the color inside . Thus, the blue and white pattern is the "limited edition Porto Cervo" ; pattern in red and white is the "limited edition Sant Tropez " ; and turquoise and white version is the "limited edition Capri" .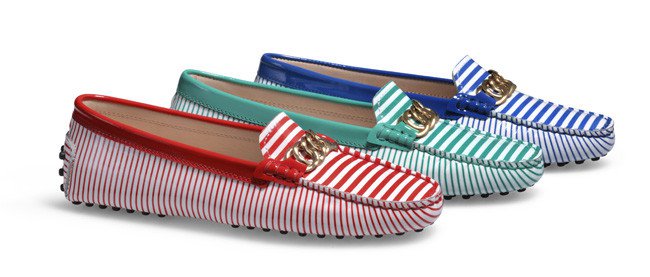 The Tod's Moccasin Gommino better known as , was created to combine the classic Italian style with modern comfort of a casual shoe, but chic. This shoe is inspired moccasins connoisseurs used to drive during the 50s , so it will cover your soles with famous Gommini inspired by the shape of the wheels of a Ferrari Spider. As part of their DNA , we can ensure that its sole is made ??up of over 100 rubber balls , which are those who give it that unique look. As usual in this type of shoes, make a hundred Gommino more steps are required , as each shoe will both use more than 35 pieces of skin. Each piece is treated individually , and assembled by hand , requiring great craftsmanship , to conform to the values ??of quality and style Made in Italy .