The 2018 Oscars Stage Is A Glittering Crystal Hell - Luxury Retail
45 million Swarovski crystals will dazzle audiences from the Academy Awards stage this year
To celebrate the 90th anniversary of the iconic Academy Awards, scenic designer Derek McLane was roped in to create a memorable stage for the artists of the evening.
Inspired by light and reflections, the designer chose to redesign the archway in front of the curtain adding 45 million Swarovski crystals to create a truly stunning backdrop. Drawing elements of Hollywood Regency and even Egyptian Deco, McLane added mirrored arches, crystal chandeliers and other details.
Derek McLane returns to design stage for sixth consecutive year
McLane visited Swarovski's headquarters in Austria earlier this year to experience the company firsthand. Following his trip, he designed a new proscenium for the 90th Oscars featuring more than 45 million crystals:
The piece will be constructed from octagonal tiles with a mix of crystal, metal, mirror and other materials to achieve its complex and beautiful shape.
A big part of the stage is the giant LED screen, this screen will feature digital projections inspired by McLane's sketches and designs for the stage. The TV audience will see projections that will have a three-dimensional quality and a more realistic look.
300,000 sparkling, sustainable crystals illuminating the ultra-elegant stage.
Key features of this year's Oscars set design include: a brand-new proscenium; the return of the beloved floating Oscars; and a signature backdrop curtain and opera box covers.
"We are proud to collaborate with Oscars production designer Derek McLane to help execute his vision for this momentous 90th anniversary," said Nadja Swarovski, Member of the Swarovski Executive Board, in a statement. "Our 11 years illuminating the Oscars stage has been extraordinarily meaningful."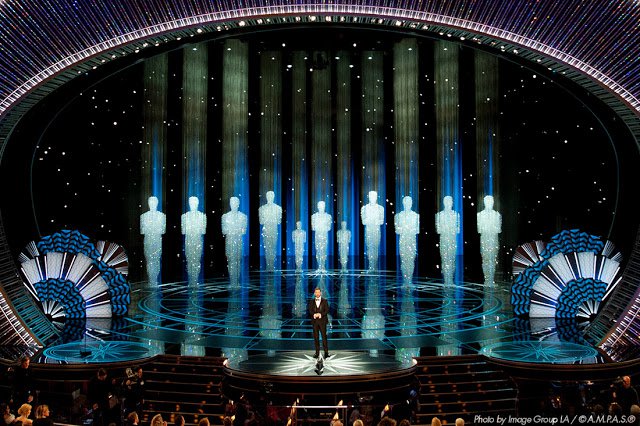 Featuring more than 140,000 crystals, the beautiful floating Oscars will return for the second year. Other crystal items include an original backdrop curtain with more than 80,000 crystals and an annual staple: the theater's opera boxes will be embellished with more than 23,000 crystals.