22/07/2022 | luxuryretail
Bringing its librarie éphémère project to Capri this summer, Louis Vuitton opens a pop-up dedicated to the Maison's travel editions and an unprecedented City Guide Capri.
Read More
23/07/2020 | luxuryretail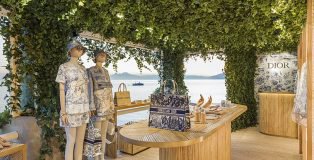 Dior pop up store in Capri: a cave overlooking the Mediterranean Sea
Rome-based design Studio thirtyone has introduced a new Dior pop up store in Capri, Italy. By reinterpreting the traditional local ceramics and enriching them with an exotic and warm weave of bamboo, the space offers a resort immersive retail experience.
Read More