Stratocaster inspired by a Fabergé egg - Luxury Retail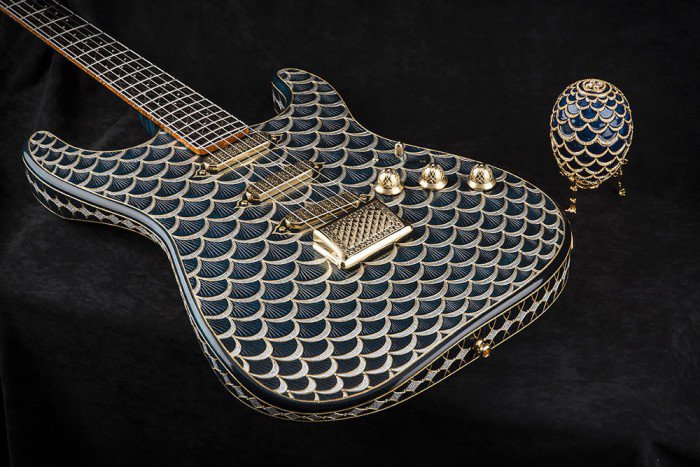 FENDER CREATES ONE-OFF JEWEL ENCRUSTED STRATOCASTER INSPIRED BY A FABERGÉ EGG
Fender master builder Yuriy Shishkov has created an ostentatious one-of-a-kind Stratocaster that is inspired by the jewel encrusted 1900 Fabergé Pine Cone Easter Egg created for the Russian royal family.
"I thought that the timeless, simple yet elegant pattern design of a Fabergé Pine Cone Easter egg would look beautiful on the Stratocaster body. The guitar's curves and flowing shape perfectly fit the rounded profile of the Faberge masterpiece. The goal was to make a very clean and vibrant tribute to old-world craftsmanship," – said Shishkov.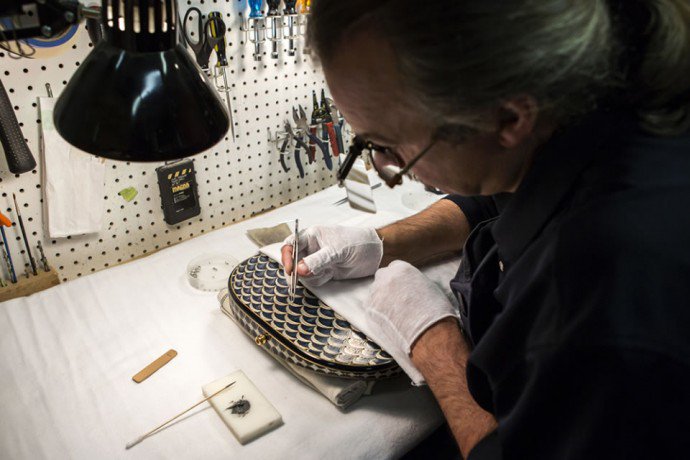 Through a projected 3-D image, Shishkov traced and carved the pine cone pattern found on the Faberge egg onto the body of the guitar. He embedded a total of 550 diamonds in the scales, fingerboard inlays, custom knobs, side dots and engraved sides of the headstock. He then gilded each scale with silver and 18K gold. The gold treatment continues on the engraved bridge and pickups. The fingerboard alone had 3m of gold wire trellis. Finally, he coated the body three times in his own special finish to give the guitar the same gloss as its namesake egg. Along with an authentic Faberge Pine Cone Easter egg, the customer will get a matching blue leather strap. Both the guitar and the egg have matching serial numbers (0074).
The one-off guitar will be up for auction soon and is estimated to fetch around $1 million.