'RS No. 9 Carnaby' , London - Luxury Retail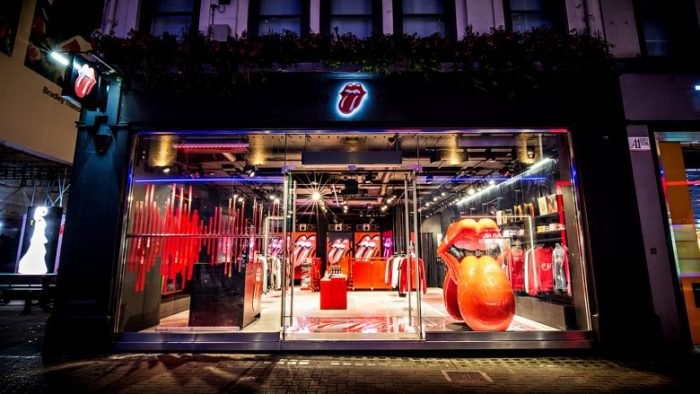 The Rolling Stones First Flagship Store, 'RS No. 9 Carnaby' Opens Its Doors in London
GH+A design studios collaborated with Bravado & Universal Music Group to design RS No.9 Carnaby as a tribute to the greatest rock n' roll band of all time.
RS No. 9 is more than just a retail space, it is the ultimate fan experience. The store is designed to immerse the customer in all that is The Rolling Stones. Customers can shop a curated assortment of products only available at this store, including unique brand collaborations, and limited-edition artwork. Throughout the store, there are moments to stop and take the perfect selfie at oversized "tongue" sculptures on both floors, or in front of your favorite lyrics in the Mirror Room on the lower level. Before customers leave, they must stop at the customisation station to get a one-of-a-kind T-shirt printed while they wait.

RS No. 9 is located within a protected heritage building, so to respect the history of the façade, GH+A chose to 'paint it black' creating a sophisticated, understated edifice identified only by "tongue" bus stop sign, and subtle tone-on-tone lettering on the building. Inside however, the store comes to life with a full height multimedia video wall inspired by The Rolling Stones latest No Filter Tour stage set. In the windows is an art installation of a soundwave representing the first verse of the iconic song "Paint It Black". The black theme is continued throughout the store with a muted palette of black and dark grey tiles, wood and metal accented by pops of the iconic Rolling Stones red. Customers will get a glimpse of more excitement downstairs via the glass floor covered in classic song lyrics, and the fitting room on the ground floor gets shoppers up close with the full height album cover of Some Girls.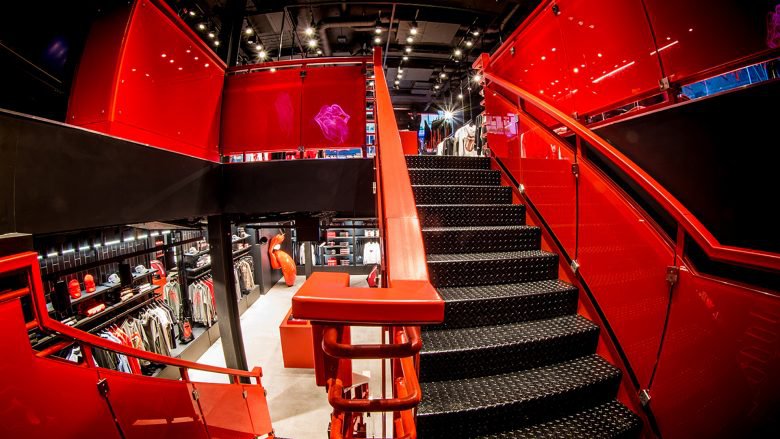 Once customers descend the iconic red stairs, the experience continues with a Sound Room where customers will be surrounded by red acoustic panels, and a Mirror Room where The Stones' lyrics steal the show. The fitting room downstairs brings the classic Exile On Main Street album cover to life and offers another perfect photo-op. The age of the building made for a challengingly small footprint, and existing building conditions were leveraged to turn previously unusable space into key customer journey moments.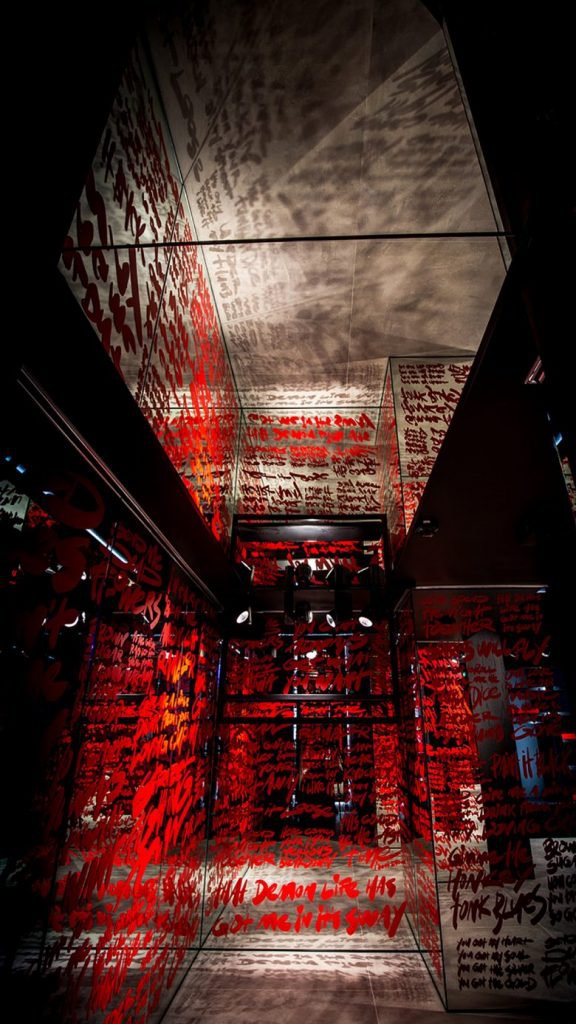 GH+A Design Studios was privileged to work with Bravado and their team to pack every inch of RS No. 9 with as much energy and soul as we could to be sure that fans who come from around the world will leave feeling a little closer the greatest rock & roll band of all time.