Saint Laurent "No matter how long the night is" - Luxury Retail
Saint Laurent swaps the runway for a breath-taking race across the roofs of Paris
Saint Laurent hasn't pulled any punches with its latest breath-taking film. The Kering-owned luxury house, which announced that it was stepping away from the official Paris Fashion Week calendar in April, went all digital for the presentation of its menswear collection for Spring/Summer 2021, designed by creative director Anthony Vaccarello.
On 9 September, the label released an online video with spectacular special effects, featuring models leaping across the rooftops of Paris in a breathlessly acrobatic race through the city.
Bathed in the last rays of the setting sun, with their long hair blowing in the wind, acrobat-models sport slim suits and light, flowing overcoats as they spring across some of the French capital's most beautiful monuments. Furthermore, not content with Paris, they even take a run at the Great Wall of China and New York's Brooklyn Bridge.

The models begin their journey in Montmartre, on the domes of the Sacré-Cœur, before setting out on a frenetic rooftop race, punctuated by perilous slides and leaps of faith.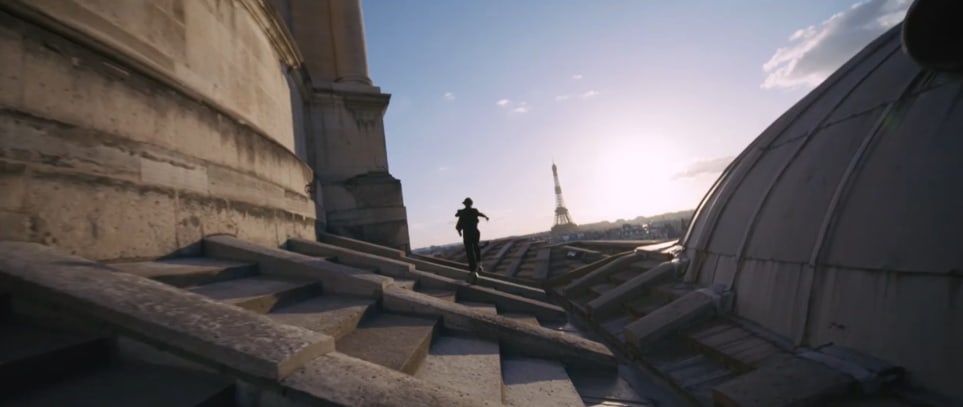 Entitled "No Matter How Long the Night is", the six-minute short film is based on an idea from Vaccarello. It was shot by Nathalie Canguilhem and features a heady soundtrack from electro musician Sebastian, two regular Saint Laurent collaborators.
From lampposts and the courtyard of the Palais-Royal to the golden dome of the Hôtel des Invalides and Trocadéro, Saint Laurent's gang of daredevil models dance across Paris with a disconcerting agility. They run in a mix of 60s rocker looks and cool, laid-back ensembles featuring Hawaiian shirts and palm tree-print jackets, before pausing for breath in front of the immense golden Art Nouveau gates at the entrance of the Petit Palais.
From there it's only a matter of crossing the street in order to attempt an ascent of the Grand Palais. Suddenly, one of the acrobats breaks through the structure's giant glass roof, which shatters spectacularly, and takes a vertiginous dive into nothingness.
And then the models are off again, running in a never-ending game of catch, where brand ambassador Charlotte Gainsbourg puts in a surprise appearance, albeit only for a matter of seconds.
Finally, there is the inevitable assault on the Eiffel Tower, which lights up suddenly in the night. A transparent glass runway is suspended alongside the Parisian icon, and it is here that the last part of this unexpected runway show, which subtly mixes reality with special effects, takes place.
Thanks to technology, Saint Laurent has created an impossible runway show, giving free rein to the magic of fashion and digital innovation.