Ralph Lauren Fall 2013 Runway Show - Luxury Retail
The last few days in New York have seen a consensus on how to handle it, which is to say, melded to clothes whose industrial-techno sense of construction makes Fritz Lang's imaginings for Metropolis look like a pastoral idyll. Not everyone is of that mind when it comes to noir, though, specifically Ralph Lauren, whose notion of black is located in the vast expanse of poetic, romantic, and pre-revolutionary Russia.

There were the requisite days of the tsars references, particularly in the accessories: chain detail on ankle boots; sailor caps made for the high seas of the Baltic; the type of opulent chandelier earrings last seen decorating the Romanovs; and perhaps some of the most gorgeous bags of the week, carpet-style, in rich, yet faded, tones, looking for all the world like they'd done active service for years going between home and dacha and back again.
Ralph Lauren's new collection evokes 19th century.
Yet for all his historical source of inspiration, this was Lauren giving a contemporary master class in how you can simultaneously soften and dramatize black so that it doesn't have to look stark and flat and sober, working it across many, many great (great) coats and myriad trousers. In the case of the former, that could be a gorgeous puff-sleeved, nip-waist peacoat that wouldn't have looked out of place on a modern-day Anna Karenina (let's hope she meets a happier ending in hers), a gilt-embroidered officer's overcoat, or a black down jacket swathed down the front with Mongolian lamb. And as to the latter, Lauren kept the line of his pants lean and clean, either stovepipe narrow to the ankles, or matelot style with a flare that kicked out over the shoes. The palette lifted for a moment, particularly with a slew of dance dresses in gleaming Prussian blue, forest green, bordeaux, or amethyst, before heading into the dark night—quite literally—with a series of columnar evening dresses, embroidered with Chantilly lace, that swooned into hems that trailed the floor. 
"This season, the designer set his sights on the Russia of Anna Karenina, offering up decadent outerwear, luxe velvet dresses, and grand ballgowns fit for a czarina. "
The Fall 2013 Runway Show.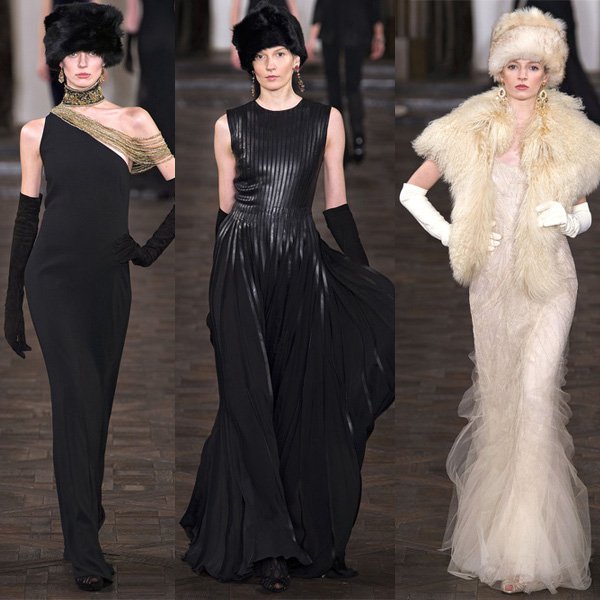 By Vogue.com