Private River Cruises through France - Luxury Retail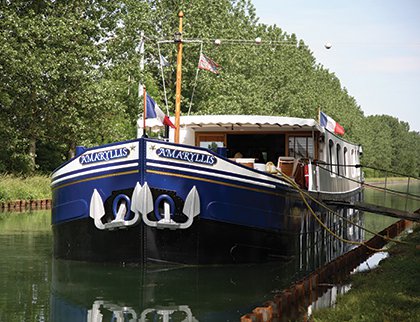 While some people prefer to keep in constant motion while traveling, others elect to put down roots, however temporary.
Belmond, the hotel brand formerly known as Orient-Express, gives those who can't choose a way to do both at once with its Afloat in France river-cruising season. Guests can select from one of five barges—all available for reservations or private hire through October—for tailored, weeklong experiences along France's waterways, with stops at sites focused on their preferred activities. Organizers will take note of travelers' interests (golf, wine, art, cycling) and create an itinerary to fit. Some examples:
–Alouette: four-passenger, four-crew péniche that cruises southwest France along the Canal du Midi, hitting vineyards, medieval castles and historic towns along the way.
–Amaryllis: eight-passenger, six-crew barge that traipses from Dijon to Saint-Léger in the north, pausing in Renaissance villages and an open-air market.
Each barge is richly appointed with large picture windows, an air-conditioned lounge, a sundeck and, in most cases, a heated swimming pool. Gourmet meals, Internet access and charming vistas are also part of the deal.