'Moschino Loves Printemps' - Luxury Retail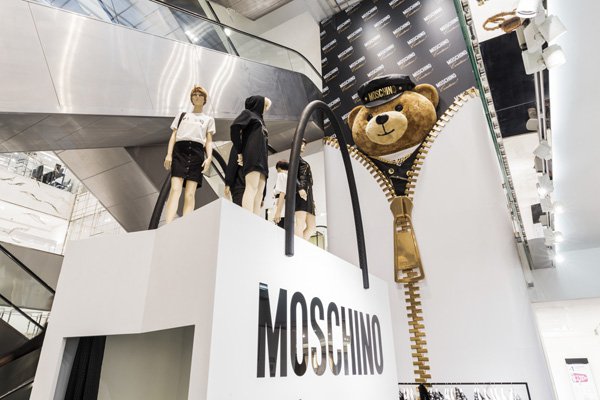 Moschino takes over Printemps atrium
Moschino is the latest special guest at Printemps in Paris, taking over the atrium in the Printemps Women's Store.
The atrium is dedicated to pieces from Moschino's limited edition collection exclusively designed for the department store by Jeremy Scott. The 'Moschino Loves Printemps' space, dedicated to this collection and also a selection of pre-Fall womenswear and Fall/Winter menswear items, has been designed to reproduce the concept of the Moschino boutique on Via Sant'Andrea in Milan.
The installation uses the oversized shapes of a 'top model' mannequin and the emblematic Moschino teddy bear leaning over a pinball machine alongside decorative panels with gigantic zippers.
Other elements include a display in the shape of a giant shopping bag, a heart and the 'Moschino Loves Printemps' logo.
In the centre, the brand's iconic teddy bear acts the perfect selfie prop for visitors.
Fitting rooms are camouflaged in a giant bag from the new collection. A pinball machine is available to animate and accompany this fun and offbeat universe. Everyone can play to win goodies such as teddy bears, Moschino Haribo and collector stickers.
The space will be in place until 1 July 2018.