Magnum celebrates afternoon tea - Luxury Retail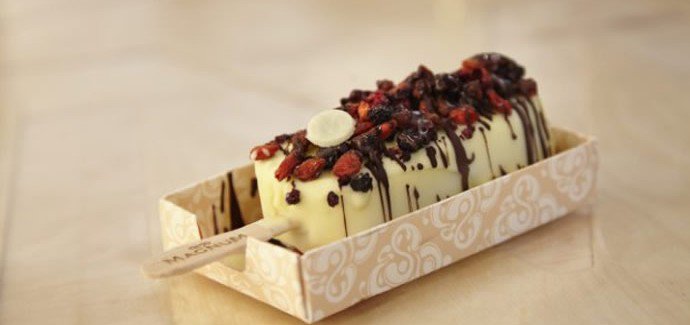 MAGNUM CELEBRATES AFTERNOON TEA WEEK WITH A TRIO OF CAKE-INSPIRED ICE-CREAMS IN LONDON
This August, Magnum Pleasure Store in London's Convent Garden is hosting an Afternoon Tea Week. To celebrate this festive occasion, the ice-cream company we are so fond of, is crafting a novel trio of flavours and yeah, of course considering its Afternoon Tea Week, they are all inspired by cake. Of course for those of you who prefer savoury, we humbly suggest you look elsewhere. I mean we are talking about a menu here which entails The Indulgence, The Pavlova and The Jam.
If you really want to get into the details, The Indulgence is basically chocolate ice cream, dipped in dark chocolate, studded with pieces of brownie, honeycomb, and silver pearls, and drizzled in chocolate sauce. Oh and there's The Pavlova: a classic vanilla ice cream, dipped in milk chocolate, drizzled in white chocolate and finished with pieces of meringue, strawberry pearls, and pistachio, white chocolate drizzle. And The Jam, The Jam – raspberry ice cream, blueberry, blackberry, goji berry, dark chocolate drizzle.
We can surely say the ice-cream brand has quite an innovative marketing strategy. I mean only last year, Magnum had collaborated with Dolce and Gabbana for a designer inspired limited edition ice cream!
An opportunity to enter a competition waits if one indulges in an Afternoon-Tea inspired creation! A fashion-inspired 'Prêt-à-Portea' afternoon tea for two at The Berkeley Hotel is the prize!
This experience is available from August 10th to 16th only