Bond Bar - Luxury Retail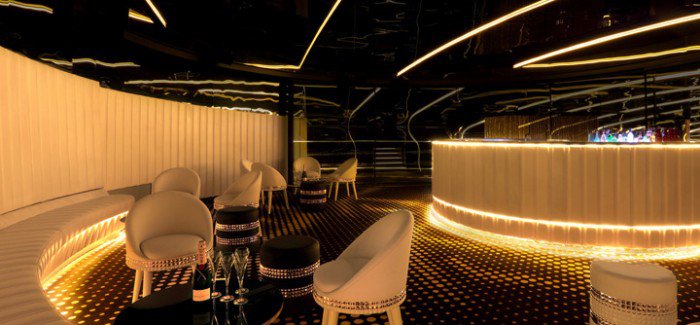 Bond Bar, Melbourne – Australia
The original Bond was built within an existing car-park. Its character and appeal were derived from its dimensions – long and low, and removed from the busy CBD surrounds. Bond's owners wanted this character to be maintained but modernised, and made once again synonymous with luxury and exclusivity.
The designer and his studio enhanced the venue's functionality – implementing additional bars, discrete VIP entryways, a Green Room, and transformative spaces that can be opened for events or isolated for private functions. They worked with engineers and specialist manufacturers to develop customised furnishings. Constraints such as the low ceiling and a fixed series of support columns were used to advantage. Seating created within the grid of columns disguises their regularity. The curvature of the walls was made more undulating, with reflective surfaces giving a sense of fluidity and vastness.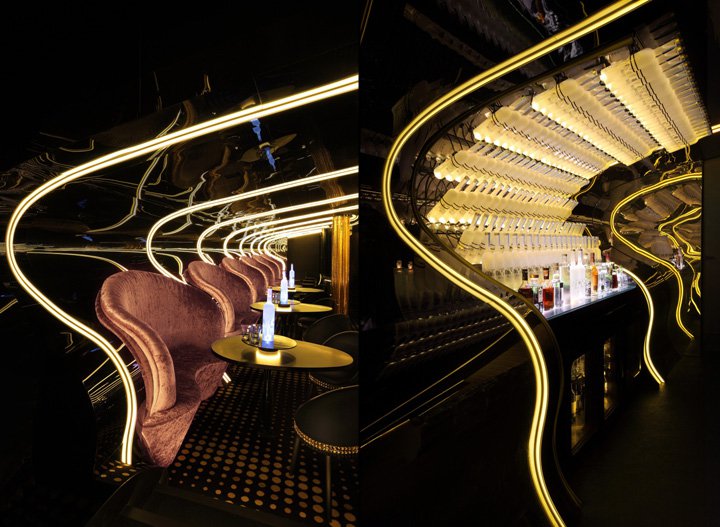 Sensorial stimulants and materials intermingle: mirrored stainless steel, leather, timber, brass, velvet, nickel, quartz carpeting, and exotic stones. Working within budget, the designers initiated additional assets, including a courtyard, and the seamless implementation of a sound and lighting system. The effect is complete, immersive. Bond is a rich and layered experience – drawing guests out of themselves, to mingle with the 'in' crowd. In the conceptual phase of the project, the designers analysed not only the original venue but also the nightclub archetype. They interrogated negative patterns – the short-lived viability of many businesses entering the changeable hospitality industry – and sought a genuine counterpoint.
Primary objectives became sustainability and longevity – responsibility to environment, and the development of a business model that will thrive and thrill for years. The designers chose hard-wearing materials and contemporary sustainable solutions, such as LED lighting throughout. And, they were resourceful, maximising every inch of available space. Bond is now exemplary of a compact venue that is nonetheless dynamic. It is adaptable and responsive to different times, moods, whims and functions.
Bond beautifully illustrates the integration of practicality within luxury, and it promotes the potential for interior design to keep pace with technological advancement. An intuitive space, it gives its users – both staff and patrons – choice and autonomy. Bond's idiosyncratic structure inspired numerous engineering feats – including curved furnishings, and the fire escape's conversion into open-air courtyard and wheelchair access point – but its most innovative feature is the seamless sound and lighting system. The designers sourced efficient technology, deconstructed the mechanics, and reassembled the components inside a succession of rib-like divisions in the bar's walls and ceiling. Both lighting and sound can be programmed, or controlled live at various consuls – defining the mood, the pace, the colour of Bond – in a heartbeat. Sound literally fills the room while lights arc and ripple, in play with all surfaces.