Luxury Spain Destination: Barcelona - Luxury Retail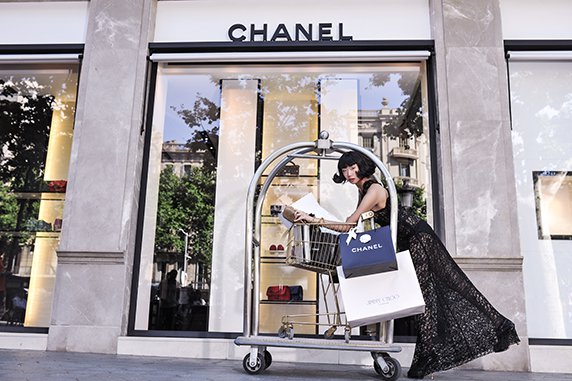 Beijing or Barcelona? Where am I?
Walking down Paseo de Gracia Avenue it feels like we are in China, but guess what? We are in Barcelona indeed. 
Plenty of chinese customers looking to discover shopping, gastronomy and culture opportunities within the golden luxury fashion area.
Suddenly stepping out from an exclusive private trunk show at the biggest boutique in town, a Chinese lady catches our attention .
Like a top model shooting an editorial, wearing a black French lace evening red carpet gown signed by Philipp Plein, georgette crêpe green cape, extraordinary GianFranco Ferré high heels and YSL silver clutch by Le Swing Vintage, our Lady keeps walking down Paseo de Gracia pushing her bespoke-golden-shopping-carte full of Jimmy Choo´s boxes and luxury shopping bags trying to reach out the Majestic Hotel looking for privacy at The Sagrada Familia penthouse .
According to Nielsen´s research "The new luxury silk road", the Chinese community in recent past years has increased with strong power of purchasing, and changed the way they do spend money within the luxury market.
Europe is the center of this market, 70% of luxury brands are European, Spain reached the 5th position with EUR 5,400 million for this sector as a producer of luxury goods.
Barcelona, Madrid, Marbella, Ibiza and Mallorca are the top 5 locations for the luxury fashion brands.
Chinese are shopaholics, so even give more importance within their trips to tourist visits.
Cosmetics, leather goods, jewelry and gourmet products are the most preferred products in Spain, but with a purchasing process that starts from their home country, through social networks and brand websites planning what they want to buy and, when they come to our country, they end the buying process that has begun long before.
The Chinese buyer also appreciates the shopping experience so easy to customize products, private parades, flights to destinations for shopping and having local brand ambassadors are central to the campaigns of any luxury brand that wants to attract the Asian niche market.
LUXURY SPAIN DESTINATION : BARCELONA
Photoshoot Credits
Production : Instore.es
Design Concept & Styling  : Fernando González – Gualtieri
Photo : Oscar Munar
Model : Grace Ming at View Management
Hairstyling : Nando Martins
Make Up : Sil-vi
Set Design Assistant : Luca Brucculeri
Thanks to :
Philipp Plein (black lace evening gown )
Le Swing Vintage boutique Barcelona; (Chanel YSL. Jimmy Choo Gianfranco Ferré )