Louis Vuitton men's store - Luxury Retail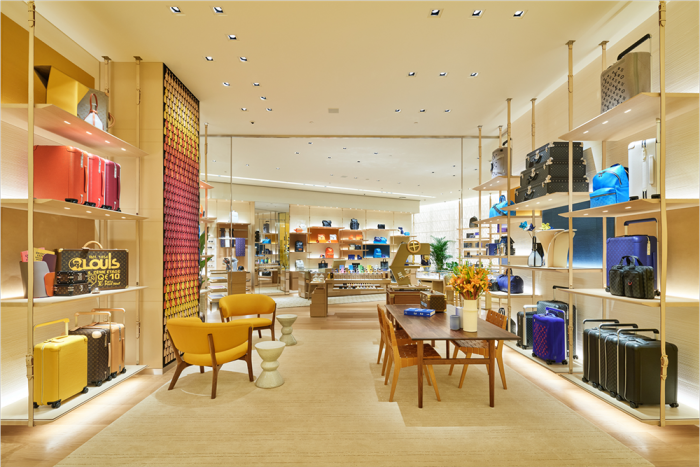 New Louis Vuitton men's boutique in Tokio
Opening in Tokyo of the world's first standalone Louis Vuitton store dedicated exclusively to its menswear line, is a renewed indication of the city's stature as the leading retail capital.
Situated at Miyashita Park, previously a green strip north of Shibuya Railway Station, and now a new mini mall with an excellent curation of high-end shops and a lush rooftop park slightly reminiscent of The Highline in New York City, the presence of Louis Vuitton has already made it one of Shibuya's most popular destinations for a young and discerning clientele.
Designed by the in-house design team of the French luxury behemoth, the boutique stands out from its surroundings through a striking backlit façade comprising of twisted metal and glass in the brand's iconic Damier motif, and paired with seemingly overflowing blobs of yellow as a nod to LV², the collab collection of the brand's creative director Virgil Abloh with Japanese designer and style guru Nigo.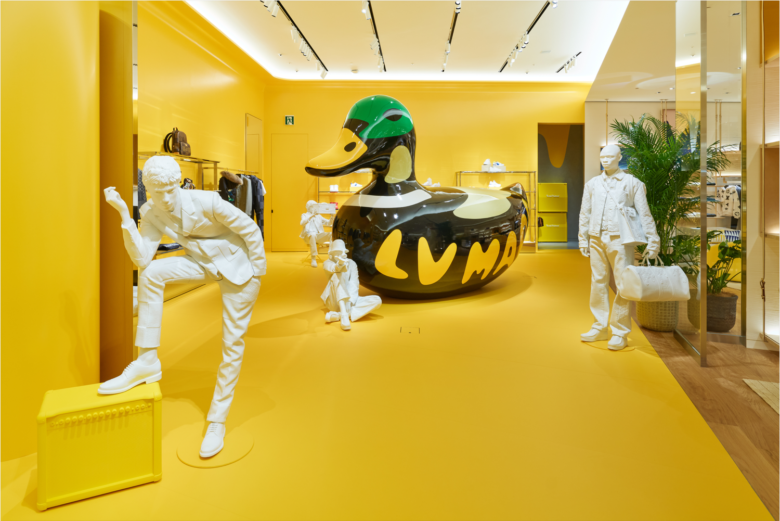 Upon entering, shoppers encounter a 10-foot tall LV Made duck, a Louis Vuitton re-interpretation of Nigo's 'Human Made' signature and emblem of the aforementioned LV² Collection.
In celebration of the store opening, items from the entire menswear range have been tweaked by the illustrious duo, in addition to signature LV² denim pieces of patchworked Vuitton prints and classic backpacks. A monogram hoodie entirely in mink is available in limited numbers, in addition to a specially engraved Tambour trophy watch and diamond encrusted fine jewellery embodied by house mascot Vivienne.
A special pop-up space occupying features seasonal animations to reflect new arrivals, while the entirely white first floor acts as a multipurpose space for exhibitions and events.
Adding to the store's hyper exclusive vibe are pieces from the Louis Vuitton Objets Nomades Collection, as well as the brand new Babyfoot from the Art of Gaming collection and items from the Taïgarama Antartica range. Up to Jul 27, access to the new Louis Vuitton men's boutique can only be obtained through online booking.