Louboutin pops up at Le Bon Marché - Luxury Retail
French luxury designer Christian Louboutin has created a pop-up shop and exhibition in Le Bon Marché as part of the department store's celebration of Paris's creative leaders.
Working with brand and design consultancy Household, the pop-up space gives fans of Louboutin an exclusive glimpse into the designer's life and personal journey.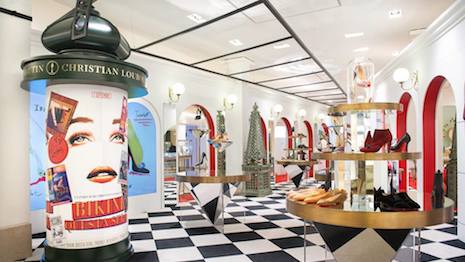 The concept takes design cues from Louboutin's first boutique, in the covered passages of Galerie Vero-Dodat. Featuring a black and white chequered floor, a faux perspective has been created along with angled walls to mirror the original dome hallway.
'Fun is at the heart of the pop-up and visitors are encouraged to embrace Louboutin's humour and quirkiness with fairground-esque photo boards and a free to use selfie booth,' says a spokesperson for Household.
Embracing the heart of Parisian culture, the pop-up space has an outdoor bistro feel complete with iron bistro tables and chairs. The seating also offers a service space for customers to sit and try on items from an exclusive capsule collection.
Arches enclose the space and are also brought to life with digital illustrations, representing the strokes of the brush as Louboutin pens his next design.