LIMITED EDITION 24K XBOX - Luxury Retail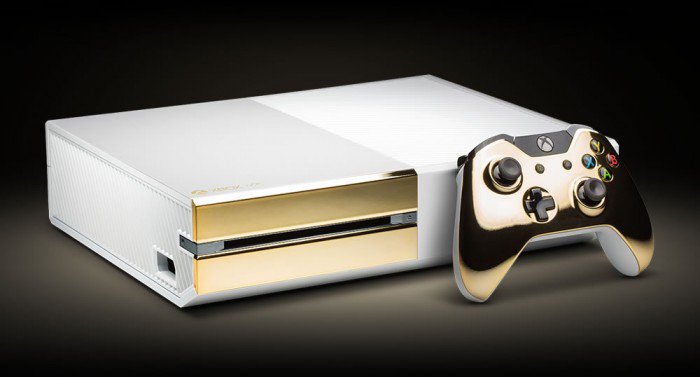 COLORWARE DEBUTS LIMITED EDITION 24K XBOX ONE PEARL SET IN A GORGEOUS WHITE AND GOLD FORMAT
ColorWare has a way of taking popular gadgets and tweaking then to make them feel as regal and ostentatious as possible. After decking out the Xbox One controller in 24K gold they've returned to finish the job with their equally appealing, limited edition 24k Xbox One Pearl.
The gorgeous glossy pearl finish with luxurious 24k gold accents that the ColorWare modification team has added to Microsoft's gaming console, are exquisite to say the least. With what looks like the previous 24k gold Xbox Controller that we mentioned, the console itself also has gold treatments given to the top and bottom portions of the drive panel. It looks as luxurious as ever and the best part is, only 50 such pieces will be available for purchase. Unfortunately the Kinect module hasn't received this fabulously rich treatment… yet.
All of the customisation has undergone a rigorous process of being dismantled, put back together, quality checked and tested and will be sold in original packing with a ColorWare Warranty included. This isn't the first time an Xbox One has undergone such a fancy and glittering treatment as Harrod's already had a 24k gold Xbox One console on sale back in late 2013 and a store in Dubai also had gold Xbox One devices and PS4s on sale for about $13,700.
This ColorWare Xbox One console and Controller in white Pearl and gold will retail for just $1199.