Lancome Advanced Genifique #LiveYourStrength - Luxury Retail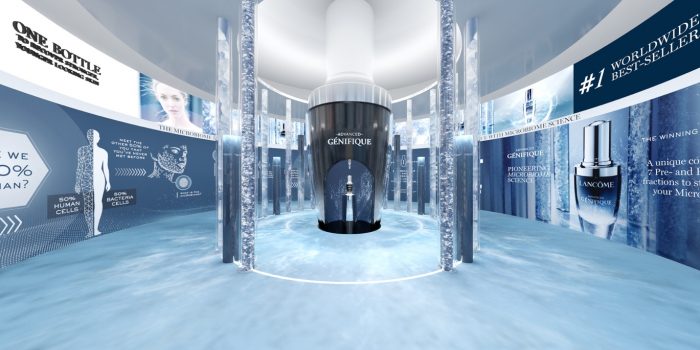 World-first Lancome virtual flagship debuts in Singapore
L'Oréal-owned high-end skincare and beauty label Lancôme has just debuted its first-ever virtual pop-up store, exclusively for Singapore.
Called Lancome Advanced Genifique #LiveYourStrength, the Singapore store is named after the brand's Advanced Genifique serum, aimed at highlighting the 11-year-old signature skincare line.
The Lancome virtual flagship store will be open from August 28 to September 20. Visitors can access the flagship via a URL link provided by the brand.
The virtual store features five different zones, providing an immersive 3D virtual shopping experience.
Discover, Explore, Inspire, Live and Shop
In the first zone 'Discover', consumers are invited to take a 'Lancôme Strength-Finder Personality Test' designed by psychologist Dr. Perpertua Neo to understand their personality across six strength archetypes – joyful optimism, fearless independence, poised composure, steadfast discipline, fiery conviction, and intrinsic wisdom.
Following this towards the 'Explore' zone, consumers can upload a selfie and receive a skin diagnosis over a virtual consultation conducted through a live chatbot feature.
The journey continues with its third 'Inspire' zone where 100 women share their narratives of their lived experiences.
The fourth zone 'Live' is a live-streaming section where celebrities and influencers make a special appearance to also discuss topics of their lifestyles and personal journey with their inner strength and empowerment.
Lastly, the experience ends with the 'Shop' where the full range of products and customization will be made available within this zone for purchasing.
"Our brands are creating more personalized and engaging consumer experiences with amazing digital services like virtual try-on, diagnostics, and live streaming – all this is building relationships between brands and consumers," affirms Jean-Paul Agon, L'Oréal group's chairman and chief executive officer.