Hide & Seek, Kiki Van Eijk for Hermès by INSTORE - Luxury Retail
Hide & Seek windows by Kiki Van Eijk for Hermès
To start the year, Hermès wants to show its attention to detail in its windows, its new jewellery collections, its accessories and its perfumes are on this occasion the protagonists in the boutiques of Madrid, Barcelona and Marbella.
The Dutch designer Kiki Van Eijk returns to collaborate with the French company designing a few windows full of originality and freshness, in which each Hermès product takes its place interacting with the decoration of the windows.
The display furniture acquires a function, it is not only a mere piece of furniture but it becomes an actor next to jewels, perfumes, leather accessories and office material; all together create Hide & Seek the Hermès universe that Kiki Van Eijk wanted to make on this occasion.
National production and installation by INSTORE
The craft production of these windows displays has been entrusted to INSTORE, specialist in window dressing that in the case of Hide & Seek has opted for lacquered wood and fiberglass to manufacture the elements in volume on which both products and decorative details rest giving mobility to the windows displays.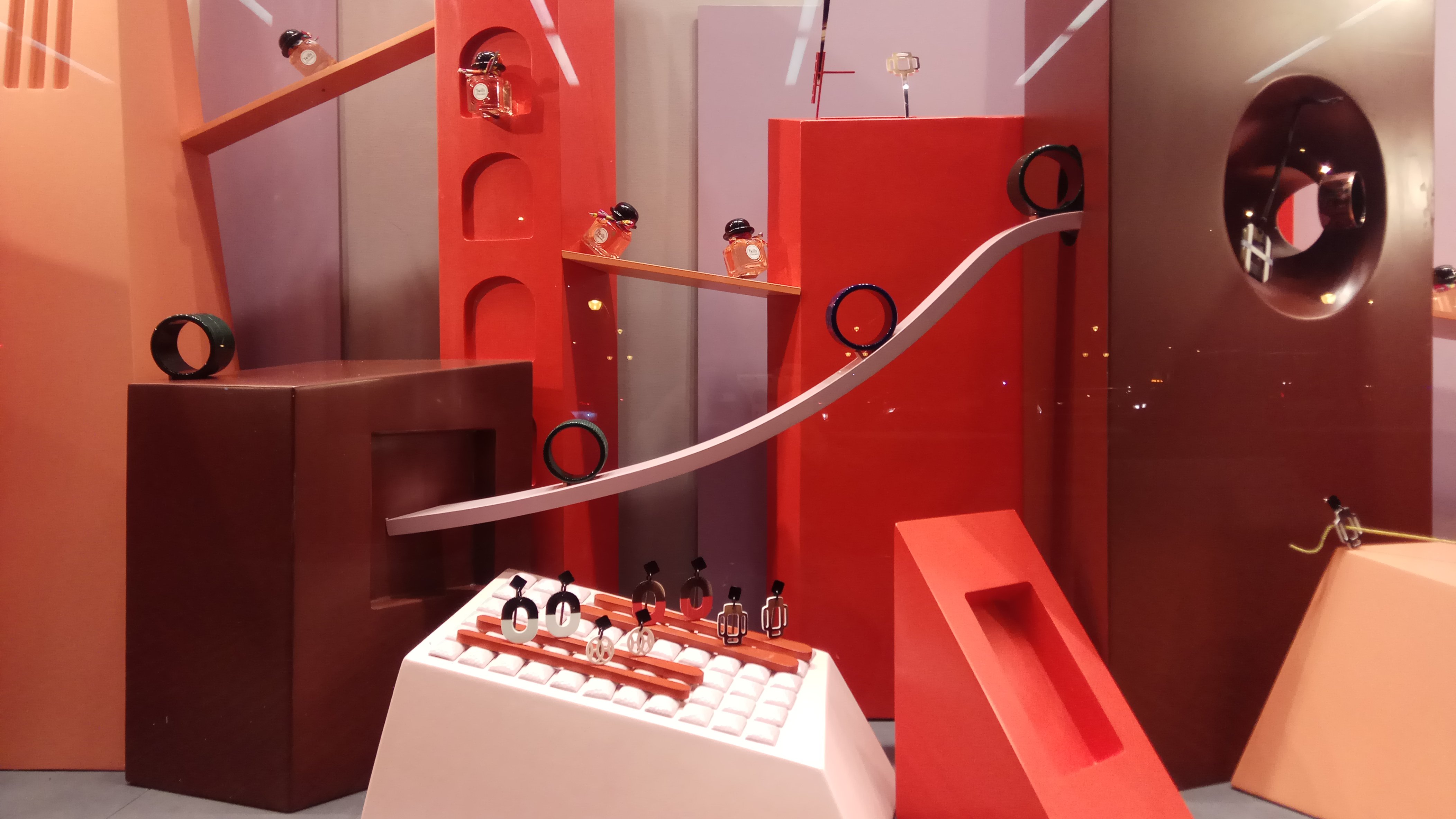 The national installation of the four models of windows that the Dutch designer has created also stem from INSTORE. Design and installation come together generating a balance between the exhibited products and the decorative furniture.
Each element is designed to occupy a specific place and play a role within the script of Hide & Seek . It is very important the installation and that it is done so that the objects have movement, remain hidden or in balance but without noticing, so that the game that Kiki Van Eijk offers can be carried out, this time from the windows of Hermès Spain.
Red, yellow, blue and green are the colors that mark the line of each windows. Hide & Seek Gymkana, Camouflage, Ballgame and Horse jumping, are the names that each model of windows receives and that explain what the artist wanted to achieve with them, to propose a game in which product and customer relate in a fun and different.