"Hermès Silk Bar" - Luxury Retail
The oval-shaped kiosk in the building's lobby was inspired by a diner and features a neon chalkboard "menu" of "Daily Silk Specials."

"Hermes Silk Bar" Opens at Columbus Circle NY until Oct 31st
This pop-up shop features a list of daily silk specials and will stock the newest Maxi Twilly scarf. This is also along the heels of the recent launch of Hermes new Silk Knots app.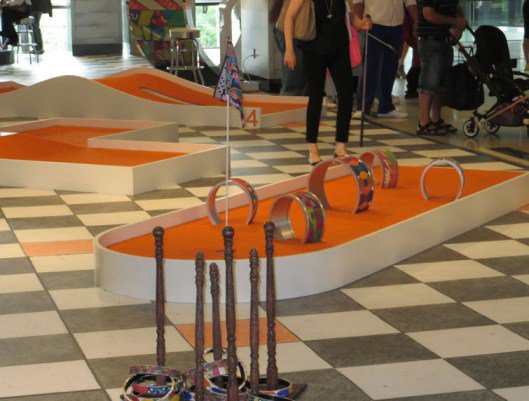 Silk Bar also features an interactive component upstairs called Les Jeux d'Hermès There, you can have fun with hopscotch, miniature golf, hula hooping, and even a photo booth.
A highlight of the concourse is an adorable miniature golf course that uses scarves for flag and halved replicas of enamel bangles as hoops. (A game of horseshoes also uses the enamel bracelet replicas as the actual horseshoes.)
A French game of hopscotch urges visitors to jump (or "terre") on the silk scarves that are arranged under plexi-glass.
For documentation purposes, a larger-than-life Les Jeux d'Hermès scarf motif acts as a backdrop for an old-fashioned photo booth, where guests get to wear the brand's scarves expertly tied by a staff-member, as well as various props such as boxing gloves.