GUCCI BAMBOO - Luxury Retail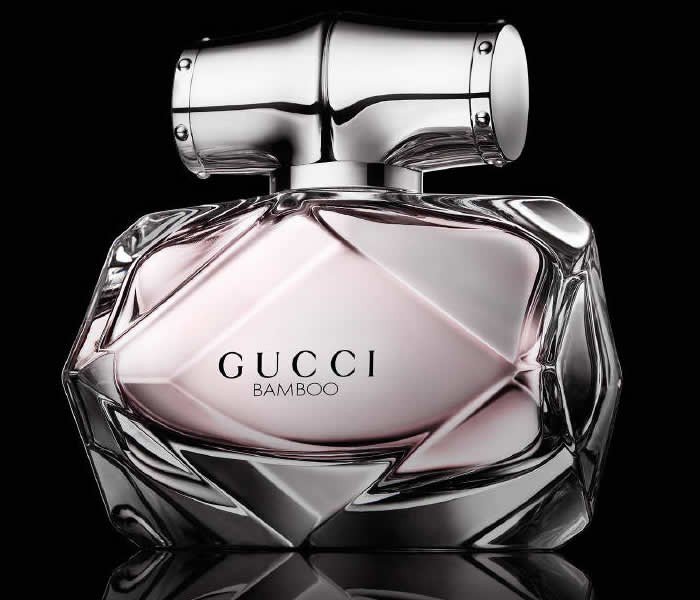 Gucci unveils a dreamy new fragrance: Bamboo
The new Gucci Bamboo fragrance emanates the Gucci woman's diverse sides: her femininity, confidence, savvy and strength. A fragrance that is so true to her spirit, it's tailor-made precisely for the Gucci woman. Soft and intense at once, Gucci Bamboo's sensorial composition draws its inspiration from the Gucci woman's harmonious dichotomy. Natural and resonant ingredients create a captivating olfactory story. Woody and warm notes vibrate through the heart and base. Deep Sandalwood, heady Tahitian Vanilla and unique grey Amber accords strike a complementary contrast with the inherent femininity found in exotic floral notes of soft Casablanca Lily, feminine Orange Blossom and delicate Ylang Ylang.
Melding delicate sensibility with strong lines, the bottle becomes a visual statement. The distinctive bottle reveals the scent's inspiration and Gucci's famed design signature. Boldly cut art deco, diamond-style glass facets are juxtaposed against the curved, feminine cap and the pale blush scent inside. These graphic facets are a metaphor for the multi-faceted Gucci woman. The sleek cap reveals bamboo's unmistakable ridged contours in polished silver metal. The packaging reprises the colors of the bottle. Shimmering silver G's in bamboo form distinctly frame the box, a gentle contrast to the soft pink shade.

The design of the bottle features an art deco inspired shape, contrasting beautifully with the pink liquid and featuring a polished silver cap with the bamboo signature. The fragrance will be available as Eau de Parfum, with prices going from $70 to $115 and it will also be available as a body lotion, shower gel and deodorant.