Porsche Opens First Restaurant - Luxury Retail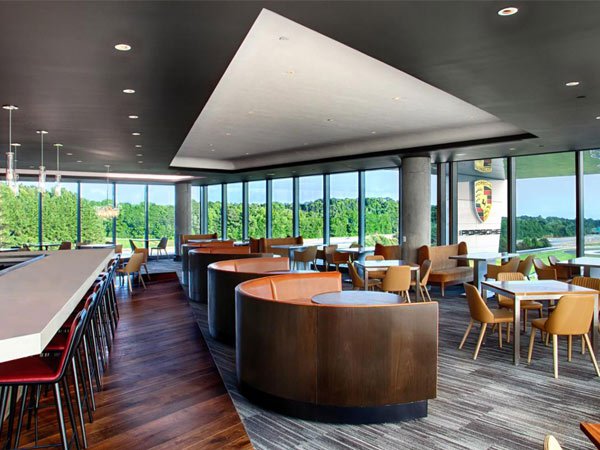 The "Restaurant 356" in Atlanta, Georgia, sits on the complex of the Company's Porsche Experience Center.
This restaurant is part of a massive 27-acre complex that houses the new Porsche Experience Center headquarters. It is located on the second level.
Restaurant 356 offers a beautiful panoramic view of the 1.6-mile track for driver development, as well as runway 826 from the Hartsfield-Jackson Atlanta International Airport.
Andre Oosthuizen, vice president of marketing for Porsche Cars North America, Inc. states:
"Atlanta is a city known for its diverse tapestry and international cuisine. At Restaurant 356, our guests will enjoy elegant dishes that honor Atlanta's global flavors, while culminating a unique Porsche experience."
Inspired by the vintage Porsche 356, the interiors are designed in classic brown leather with a posh seating arrangement. The minimalist seating space is complemented by clear and bright lighting as well as elegant carpets.
Coming to the menu, the kitchen will be headed by Executive Chef Kyle Forson, who is amongst the leading chefs of the city and has worked with The Spence and ABC Kitchen. The seasonal menu at Restaurant 356 showcases world cuisine made with locally farmed ingredients. Guests can also enjoy a vast range of wine selections that come from the finest winegrowing regions of the world. The cocktail menu offers a mix of classics as well as a touch of modern tastes.
Besides the restaurant, guests can even visit the facility and hire premium, limited edition cars to drive on the special track at the complex.
The restaurant is exclusively open only from Thursday to Saturday between 5.30 to 8.30 pm. For bookings and further information visit Restaurant356.com