Ferrari California T - Luxury Retail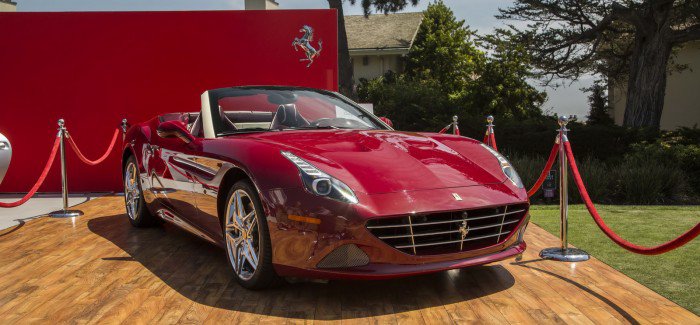 Tailor-Made Ferrari California T Showcased At Pebble Beach
Ferrari's stand at the Pebble Beach Concours d'Elegance represents the ideal place to admire the beauty of Italian automotive design. This year, the famous supercar maker has revealed a unique Tailor-Made Ferrari California T, featuring classical styling cues such as the beautiful "Rosso Ferrari" exterior color.
That particular exterior finish might remind some of you of the very first Ferrari ever, the 125 S. But let's just focus on this particular Ferrari which also comes with a roof painted in ivory "250 Europa GT" and also features a chrome front grille, ball polished rims and black brake calipers to make sure people understand this is a performance vehicle, after all.
Inside the cabin is where this California T really shines. With Bordeaux leather seats, accented with ivory diamante detailing and leather inserts, not to mention the steering wheel, dashboard and door panels – all featuring the same exquisite material – this Ferrari might just be the most luxurious place to enjoy your day.
Speaking of which, this unique California T is still powered by a 3.9-liter turbocharged V8 engine, good for around 552 hp horsepower at 7,500 rpm and 755 Nm of peak torque. With 0 to 100 km/h (62 mph) sprint of just 3.6 seconds and a top speed of 316 km/h or 196 mph, this vehicle should provide you with the desired amount of excitement, and more.