BAR/S at Shiseido Building - Luxury Retail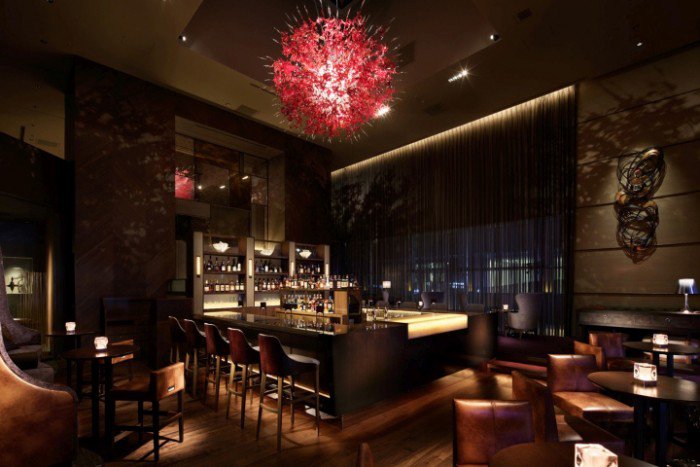 BAR/S  at Shiseido Building, Tokyo – Japan
The Shiseido building in the Ginza neighborhood of Tokyo was completed in 2001. At the time the landmark red building was under construction, its concept was to be a beacon shining in the Ginza neighborhood. The building, which also houses the Western-style restaurant and café Shiseido Parlour as well as the Italian restaurant Faro Shiseido, has come to be loved by men and women of all ages with a taste for the finer things in life. Adding to the diversity of dining culture in the building, BAR/S opened on the building's top floor in June 2015.
The "S" in BAR/S brings to mind a number of concepts such as salon, smile, special and share, and has been designed with the idea of having all patrons enjoy its personalized style. Based on this concept, BAR/S aims to be a bar befitting the sophisticated clientele of Ginza. When guests alight from the elevator, they are transported away from the dazzling city lights and welcomed by the flickering glow of candles in the bar's reception area.
BAR /S's space was designed by Ryu Kosaka, winner of the Best Bar prize in the UK's Restaurant & Bar Design Awards 2014. With the vision of creating a bar that would become a symbol of Ginza, he designed the two distinct areas of a bar counter anyone could feel comfortable sitting at and a lounge area welcoming to groups. The bar counter features sophisticated embellishments and a skylight that can be opened to allow in night breezes during warm months. The lounge area in the back of Bar/S is decorated with more distinctive pieces of art and furniture. Flickering flames add to the social and sexy ambiance of the cozy space designed for special encounters.
The area for guests is approximately 116 m2, arranged with 10 counter seats and 43 table seats. The drink menu features various cocktails, wines, champagnes, and Japanese sake as well as original seasonal drink offerings.