FERRARI ARNO XI - Luxury Retail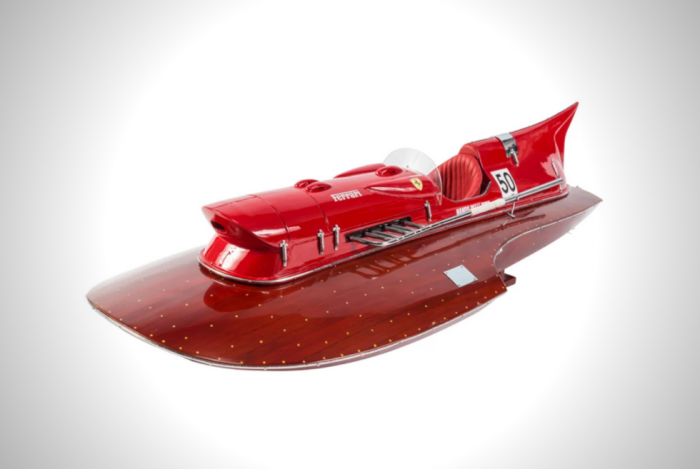 The Ferrari Arno XI is the only Ferrari-powered boat in existence
Like the title suggests, this indeed is the only boat in the world to come equipped with the Ferrari goods, so to call it rare would be a gross understatement.
duPont Registry has put the Ferrari Arno XI racing boat up for sale, and we're betting this one isn't going to stay on the market long.
In October 1953, renowned Italian speedboat racer Achille Castoldi set the world speed record on water for the 800kg boat class while riding the Ferrari the Arno XI. DuPont Registry says it's the only boat built with Enzo Ferrari's blessing, too.
According to RM Sotheby's, the auction house which sold the boat back in 2012 for nearly a million dollars, Castoldi had previously built boats with the likes of Alfa Romeo and Maserati. In 1952, however, he ordered a Formula 1 specification V12 engine from Ferrari in the hopes of breaking the 800kg class record.
duPont says the boat has been completely restored. Care of Ferrari's classic car department, no less. The listing notes it has had a "peaceful retirement," seeing as how its previous owners didn't really attempt to break speed records with it. It now spends most of its time leisurely showing off at boat shows during parade laps.
Of course, that could all change with the arrival of a new owner. Castoldi will be hard to beat, but anyone's welcome to attempt and push past his milestone. You got all 550+ horsepower at your disposal, care of a modified Grand Prix engine that once hit a speed of 150.49mph. That's a record that stands to this day, mind you.