Fendi Store Madrid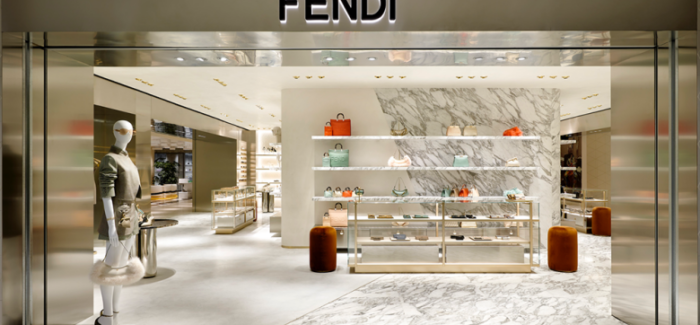 Fendi Opens Its First Boutique In Madrid
The house of Fendi has only just now opened its first directly managed retail space in Madrid.
Shunning the Spanish capital's prestigious downtown district, the Italian brand has opted to set up shop at Centro Comercial Castellana in the Cuatro Caminos area of town. Occupying a 140 sqm. (1,507 sq.ft.) unit on the premises of El Corte Inglés, Spain's leading upscale department store, it features an interior design created by the brand's in-house design team.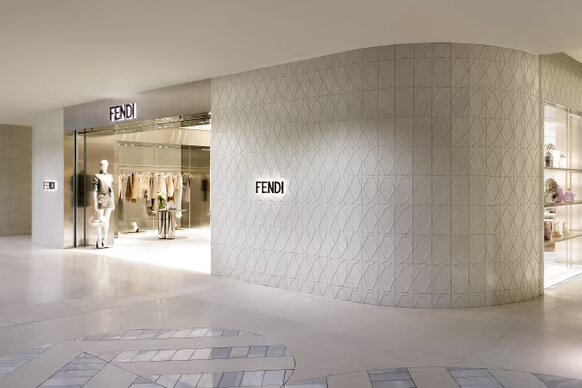 The boutique is more of a cube shape, giving a circular feel with the organization of the space, and four focus walls. The walls were designed to give a unique feel. Done with perspective cuts, that according to Fendi, "has the alternation of white Arabescato marble and ivory pozzolanica." Designers went into house archives to add the typical Roman patterns.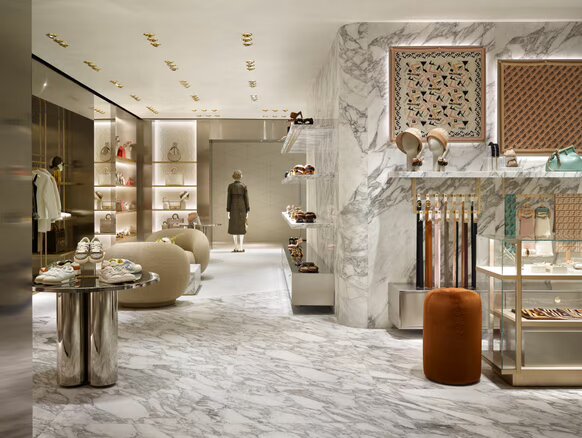 "It's inspired from locals' materials, white hand-made ceramic tiles with a reinterpretation of the FF logo designed by Karl Lagerfeld for the Fall/Winter 2013 collection wrap the façade of the store," notes the house.
The store sees a façade of handcrafted white ceramic tiles inspired by Spanish materials and applied by the late 'n great Karl Lagerfeld (1933-2019) for Fendi's A/W 2013 Collection and can also be found inside as a backdrop for shelving. Inside, a four-sided core shape has been placed in the centre, clad in eye-catching white marble and pozzolanic cement. The surrounding walls are covered in shiny metal panels which tie in with a variety of furnishings that incorporate the very same material. Sleek clothing racks in champagne-coloured steel display garments. The new Fendi boutique carries the brand's women's apparel, accessories, shoes, bags, small leather goods and watches.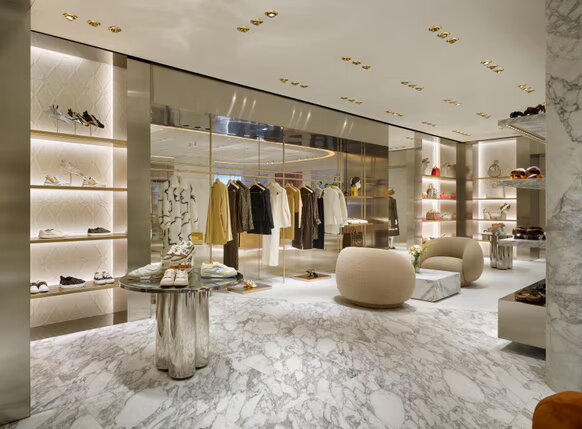 This new boutique has metal niches with handmade ceramic background showcase bags all around the store, as well as accessories and shoes. Ready-to-wear items are presented on champagne metal tubular structures.