Casa Loewe London - Luxury Retail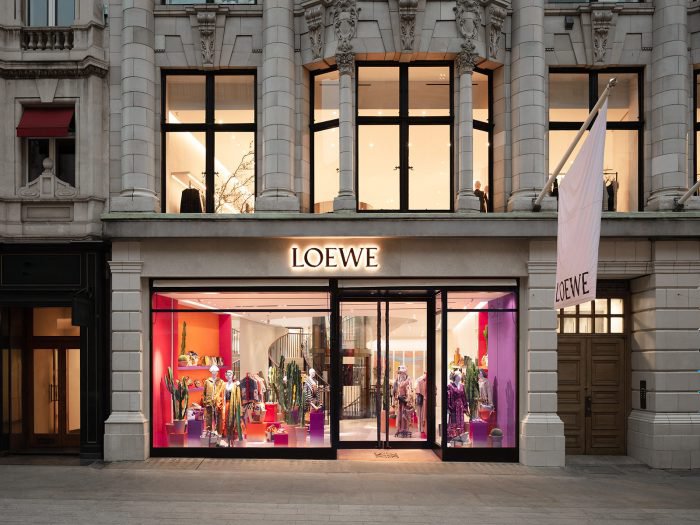 Fashion meets art at Casa Loewe London
Spanish fashion house Loewe has a chic new home in the heart of the affluent Mayfair neighbourhood.
Following his passion for craftsmanship, hand-made and delicate work, art, culture, and the feeling of being home, Jonathan Anderson has remodelled a three-storey heritage property on London Mayfair's New Bond Street and turned it into the new Casa Loewe, the Spanish house's flagship store in the British capital.
"The shop should feel warm and domestic because fashion exists in the domestic environment – and this can be conceptual", Anderson has told British Vogue. "As much as we live in the digital world, clothing needs to be able to exist inside a space for people to understand its emotional personality", he keeps on reflecting. His words couldn't be truer.
Loewe's Creative Director has been working unceasingly to put artisanal work, craftsmanship and traditional skills at the forefront of his and the house's practice.
This obsession is present in every corner of the newly inaugurated Casa Loewe. Dominated by the use of natural materials – cast concrete walls, wood panelling, poured concrete floors and curtains made from linen –, the venue is dominated by a 'floating' spiral staircase, a cylindrical panoramic lift with brass detailing, and a space dedicated especially to the capsule collections and art projects. Even more important are the several artworks that Anderson has hand-picked from Loewe's collection.
In a well-balanced array of contemporary art, design, and craft (including painting, sculpture, furniture, etc.), London's Casa Loewe currently exhibits the artworks of fourteen different artists, from sculptor William Turnbull to photographer Alair Gomes, to Ernst Gamperl, who won Loewe Foundation's Craft Prize in 2017, and Anthea Hamilton, a long-time collaborator of the Spanish house who's also participating in this year's Venice Biennale.
"I've always wanted to create a cultural space where art, fashion, craft and experience can meet", Anderson says.
Casa Loewe London's business is spread over three levels
Designed by creative director Jonathan Anderson, who has put craft and culture at the forefront of the brand, and built with sustainability principles to reduce its negative environmental impact.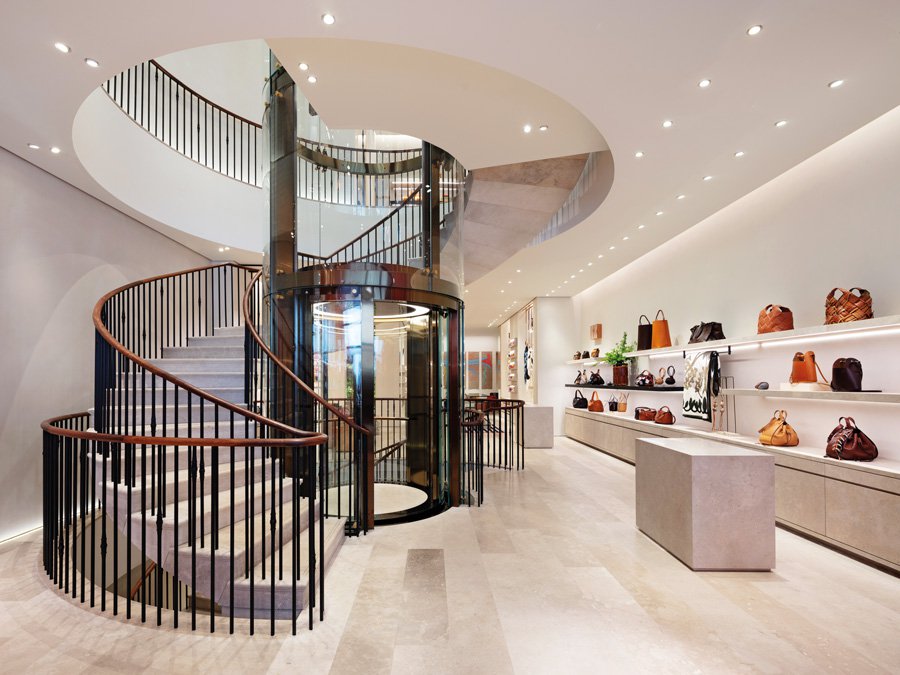 The 1,270 sq ft basement is dedicated to menswear while the ground and first floors (each 1,938 sq ft) showcase women's bags and accessories, eyewear, silks, the ready-to-wear collection, shoes and jewellery.
The entrance's open area serves as a pop-up space to exhibit collections and art projects. Oak vessels by Ernst Gamperl sit by the staircase. The cylindrical, sculptural panoramic lift with brass detailing as well as the curving central staircase – inspired by the Georgian period and hand-built with Campaspero stone from Spain's Valladolid region – connect the three levels.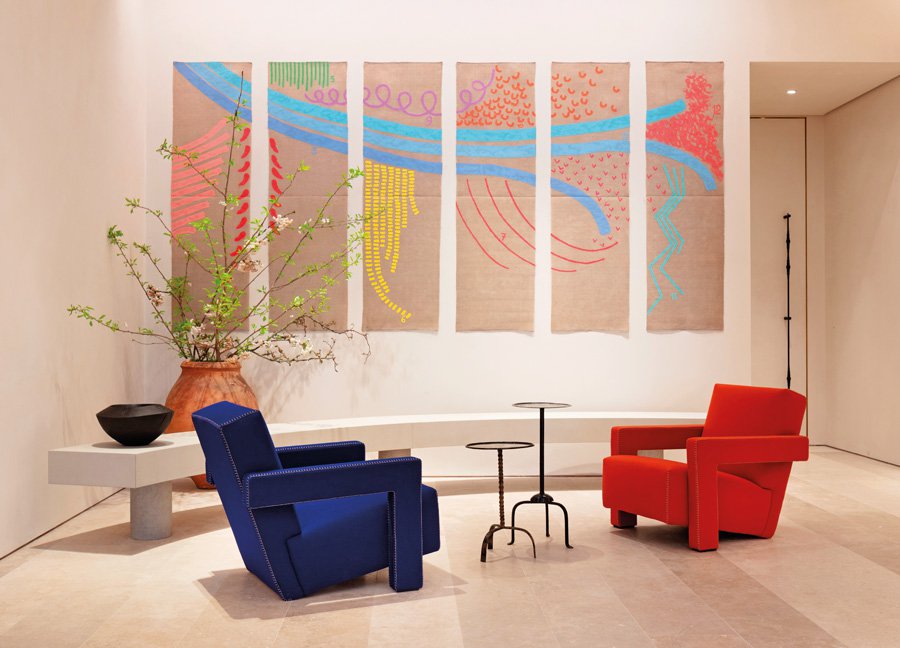 Combining luxury and intimacy, Casa Loewe London is styled like the home of an art collector. Giorgio Griffa's painting series Polittico con tredici colori serves as a backdrop to this striking blue Utrecht Easy Chair by Gerrit Thomas Rietveld. Paintings, sculptures and photographs by artists such as Ernst Gamperl, Alair Gomes, Nicholas Byrne, Grayson Perry, Caragh Thuring, Magali Reus, Sara Flynn and William Turnbull are paired with fashion products and contemporary furniture.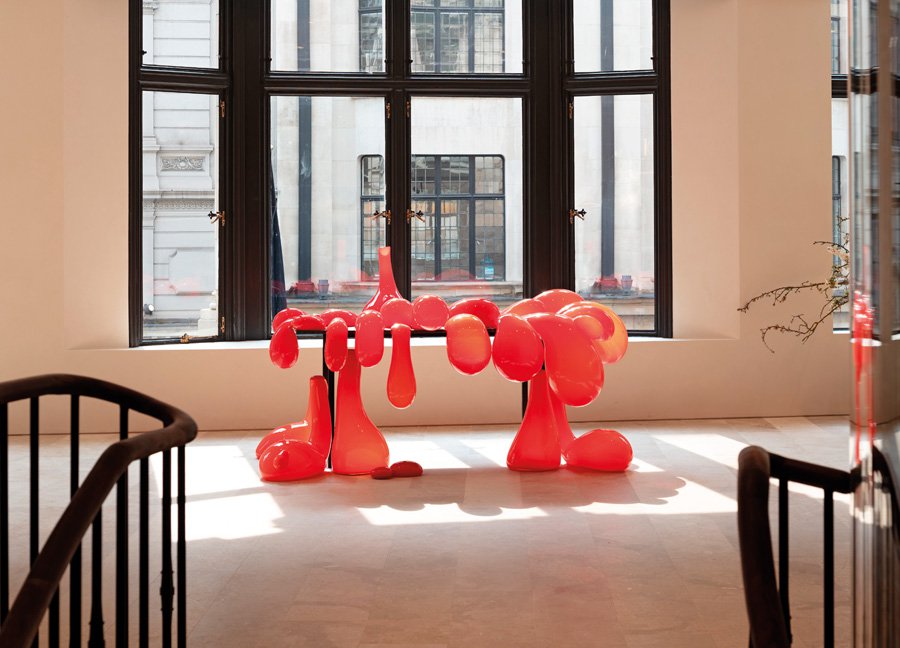 These include Lambert chairs from French designers Berger&Berger, handwoven rugs by Jason Collingwood, benches and vessels by woodworking master artisans Jim Partridge and Liz Walmsley, an easel lamp by Angelo Lelli and a table from Axel Vervoordt. Some of the art and furniture pieces, like the blown glass Vulcano Table sculpture by Anthea Hamilton, will rotate to make Casa Loewe London a living gallery where fashion, art, craft and design meet.